Bohío magazine once again receives nominations for Pasaporte Abierto international award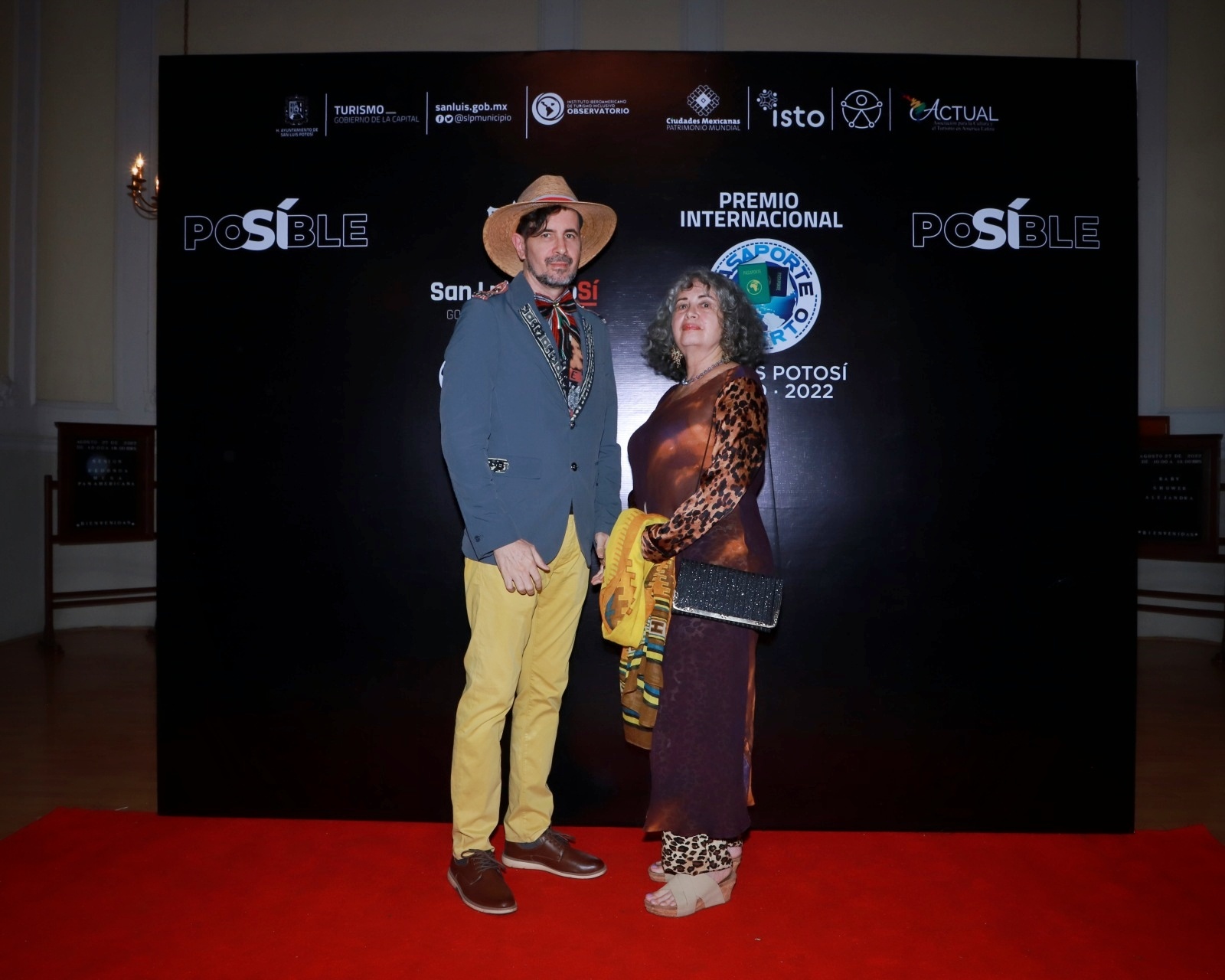 Adrian R. Morales and Anita González Sigler during the Pasaporte Abierto award gala in San Luis Postosí, Mexico, September 2022 (Photo: WTJO).
Santo Domingo.- Once again, Bohío magazine –pioneer of the Dominican tourism press since 1966– has been nominated for the prestigious Pasaporte Abierto international tourism journalism awards, sponsored each year by the World Tourism Journalism Organization (WTJO).
Content editor Adrian R. Morales and reporter Anita González Sigler –both Cuban-Dominican, residents of Santo Domingo for almost two decades, and members of the Dominican Association of Tourism Press (Adompretur)– were finalists in the Originality and Social Relevance categories, respectively. He with his interview "Un pianista que viaja o un viajero pianista;" she with her travel chronicle "Donde la pupila terminó comienza el resplandor de la voluntad."
In addition, Morales grabbed another nomination, thanks to his report "Specialized tourism for the rich variety of the Dominican Republic's flora," published in DominicanToday.com, our country's first English-language online newspaper.
A Bohío collaborator, Yubelkys Mejía –Dominican by birth–, was also nominated in the Originality category, with an article published in Bohío's international destinations section, "Bogota: Family Options."
According to Miguel Ledhesma, founding director of the WTJO and of the award, Pasaporte Abierto is a recognition "to the tourism journalists who carry out their work in an ethical manner and to the organizations that collaborate with the committed work of these tourism communication professionals."
It is also, he says, a way of representing the need to live in a world without borders in which respect, solidarity and free access to information prevail.
Cuban by birth, Dominican by adoption
For Anita González, who arrived in Santo Domingo in 2007, being able to fulfill one of her greatest passions, writing, has been a dream come true. "Since I was a child, I have always loved writing poetry and short stories. In the Dominican Republic I have had the opportunity, since I arrived, to venture into this fascinating world of tourism journalism," she points out.
"On many occasions my collaborations in the media have been non-profit, as a kind of gratitude to this country for welcoming me with open arms, a country that has stolen my heart with its amazing places, extraordinary people and stories worthy of being told. Without forgetting my roots, I feel like another Dominican," Anita told Dominican Today.
In addition, in 2022, she, as well as her son Adrian R. Morales, had the chance to take a specialization course in travel journalism, taught by Miguel Ledhesma, as part of the WTJO's training program. As a result of the course, the book "El viaje que habito" (The Journey I Live in) was published this year, for which Anita wrote the chronicle "Viaje a la calle gris de tu partida" (Journey to the gray street of your departure).
In past editions, Bohío magazine has received several awards and nominations, thanks to the works published by its content editor Adrian R. Morales ("A la trayectoria 2018" award), its reporter Anita González Sigler and other collaborators who have been welcome to promote in its pages topics related to the tourism sector.
On this occasion, the awards will be presented in Panama on September 4, 2023, at a special ceremony to be held in the Chiriqui province and is expected to be attended by nearly 50 journalists and tourism entrepreneurs from several countries.
Bohío magazine, the BohioNews.com portal and the rest of Ediciones Cabrer's products congratulate the Dominican communicators and journalists who with their hard work and commitment to the sector every year manage to be finalists in the Pasaporte Abierto award and make the Dominican Republic the country with the highest number of nominations and trophies in this relevant international recognition. Dominican Today joins in this heartfelt congratulation.