Bohío magazine's content editor wins international journalism prize in Panama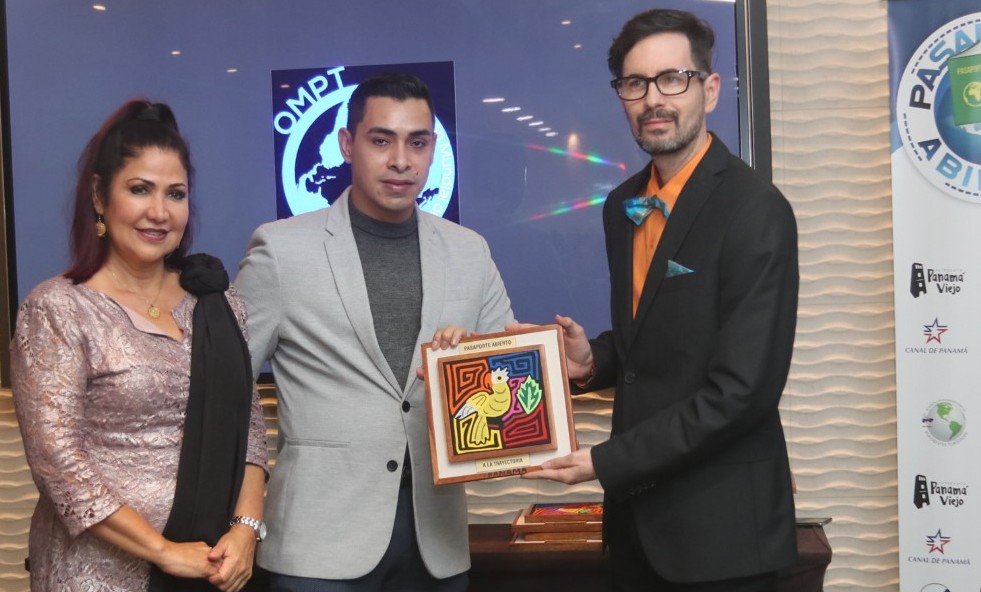 Lilia Lara Compeán, left, Adrian Morales, right.
Santo Domingo.– Bohío's content editor Adrian R. Morales González received in Panama City a "Lifetime Achievement" award in the international tourism journalists prize 'Open Passport 2018' by the World Tourism Journalism Organization (OMPT) and the Latin American Tourism Journalists Alliance.
The prolific journalist and editor has to his credit more than 20 years experience, since he joined the media sector in 1996 in his native Cuba, where he won several journalistic awards and received recognition from the Latin American news agency Prensa Latina for being the first written press journalist in disclosing the discovery in the neighboring island of the black family of Spanish painter Pablo Picasso.
Upon arriving in the Dominican Republic, he joined both the print and digital media, and worked as a staff writer for online newspaper Dominican Today and as an editor for various magazines such as Mercado, Refugios, Cayena, SDQ, Deleite and Cap Cana Magazine.
In 2008 Adrian Morales joined specialized tourism media group Ediciones Cabrer as the content editor of Bohío magazine and the La Cotica National Tourism Guide of the Dominican Republic, which along with Regional Maps "Find Yourself" are part of the promotional material used at international tourism fairs and events attended by the Dominican delegation and as support material for the Tourism Promotion Offices (OPT) that the Ministry of Tourism (MITUR) sponsors in more than 25 cities around the world.
After receiving the award, from Lilia Lara Compeán –OMPT director for Mexico–, Morales expressed gratitude for the important distinction and jokingly suggested the organizers to include in further editions the category "Open Visa" to recognize those tourism journalists who face daunting hurdles when applying for a visa to attend press events. "There should be more flexibility with the visa process for tourism journalists. Not everyone has a U.S. visa, for example, which allows you to travel freely to a certain number of countries," he said.
The ceremony for the award sponsored by Panama's Tourism Ministry featured a gala at the Hilton Garden Inn hotel in Panama City, where 13 categories were recognized, with Mexico winning the Open Passport Grand Prize, awarded to the Hidalgo Secretary of Tourism, destination that also won for "Responsible Destination." At the end of the gala it was announced that Hidalgo will host the 2019 edition in October, next year.
—————-
Editor's note: Adrian R. Morales was instrumental in achieving Dominican Today's presence of nearly 14 years. Our heartfelt congratulations.