Is The Dominican Republic Still Safe Amid New Travel Advisory?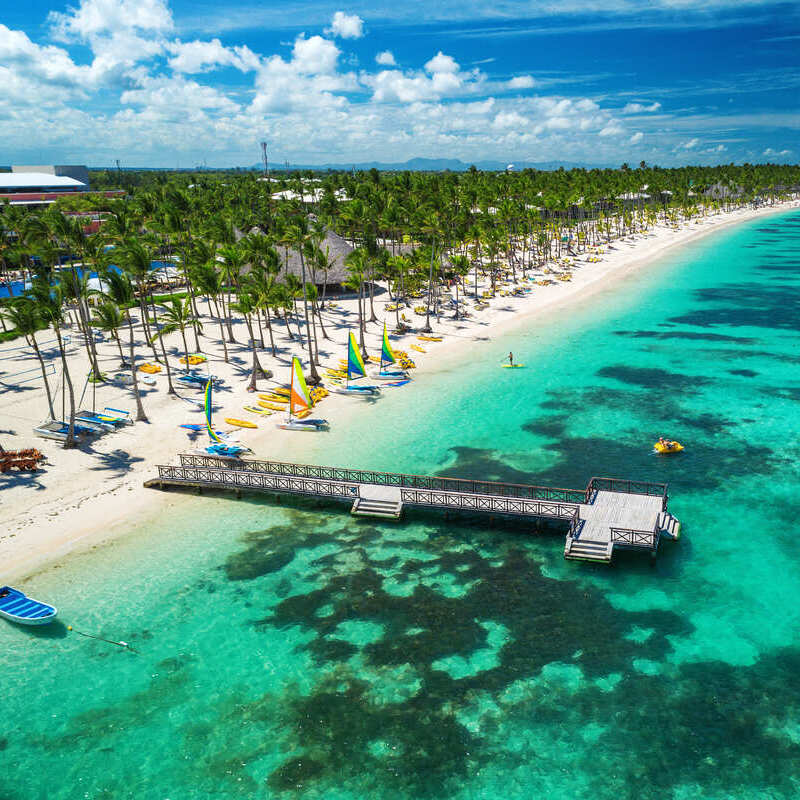 The Dominican Republic (DR) is one of the most popular beach destinations for Americans going abroad, famous for its pristine beaches, turquoise waters, and luxurious resorts lining the coast, but it's also notoriously made headlines for its political instability and higher crime rates.
But just how serious is the update, and what safety measures are now necessary?
The Dominican Republic Is A Level 2 Country
Last year, the State Department advised Americans on the dangers associated with venturing out of leisure complexes and resort zones in underdeveloped parts of the Dominican Republic, where gang activity is widespread, and rates of violent crime can be substantially higher.
Not much has changed since then: the country is still considered a Level 2, or 'moderately risky' destination, which means caution should be exercised when visiting, but a new travel advisory issued by the U.S. Embassy in the DR has given rise to further concern.
As noted by the American embassy in the country, U.S. travelers may want to take 'precautionary measures' traveling in the Dominican Republic, especially when touring public areas, as they could be perceived as targets by pickpockets and criminals alike.
Essentially, you are now explicitly advised not to display 'signs of affluence', such as wearing expensive jewelry or watches, keeping your personal belongings on you at all times, and maintaining an elevated situational awareness.
Due to the strength of the dollar and the higher standards of living the average U.S. citizen enjoys, at least compared to most Latin Americans, they are routinely preyed upon by scammers, criminals, and other ill-intentioned individuals.
Does this mean the Dominican Republic is unsafe for travelers, then? Well, not quite.
The DR Is Surprisingly Safe For Americans
While crime is indeed an issue, and you probably wouldn't want to explore suburban zones of Punta Cana or the sprawling urban mess that is Santo Domingo on your own, incidents involving tourists, particularly those coming from affluent countries, are rather infrequent.
More than 8.5 million tourists landed in the DR in 2022, making it the most visited Caribbean vacation spot behind Cancun, at a record 37% increase year-on-year. Despite its soaring popularity, crime rates in tourist zones have been kept to a minimum.
In 2019, the reference pre-pandemic year when tourism was at its highest, 'at least' seven U.S. citizens had lost their lives vacationing in the DR, a victim of either violence or fatal accidents.
Seeing that close to 8 million foreigners had flown over that year, that's hardly a troubling figure.
One Of The Safest Caribbean Countries
As reported by InSight Crime, the DR has 'much lower violence' than many other countries in its league, and although it is the 'main cocaine transit' hub in the Caribbean, law enforcers have not been overwhelmed by violence spikes.
The same cannot be said about the neighboring country of Haiti, which shares the same island as the Dominican Republic and is the only country that borders it by land.
Considered by some experts a failed state, Haiti has been facing a profound humanitarian crisis for years on end now.
In recent weeks, the situation has deteriorated quickly, with gangs taking over the streets and anarchy being installed. Fortunately for the DR, its western borders are well-secured, and the crime and disease that's halted Haiti's growth has not spilled over.
InSight Crime experts believe the country's success in keeping issues that led to the Haitian crisis from being imported and tourist destinations relatively safe is partly attributed to a 'business-first attitude', which they suggest provides an explanation for the 'relative' state of peace.
Granted, the Dominican Republic is no Europe, but taking into account its geographical disadvantages and decades-long battle against corruption and organized crime, it's done a pretty good job at lowering crime to manageable levels.
The DR, on the other hand, is only at Level 2, and standard safety advice applies. U.S. authorities themselves have stated that the introduction of a professional tourist police corps and the availability of a 911 system, as well as the concentration of security efforts in resort strips, has improved safety levels.
With that being said, the resorts are normally 'better policed' than urban centers like Santo Domingo, where weapons are widely available and the trade of illicit drugs is rampant. Traveling to the DR, Americans must ensure they:
Do not display signs of wealth
Never resist robbery attempts
Follow the advice of resorts and tour operators
Enroll in the STEP (Smart Traveler Enrollment Program) to receive up-to-date security alerts from U.S. authorities
Have a contingency plan in the event of an emergency