IDAC presents advances in research to create alternative fuel for aviation in Venezuela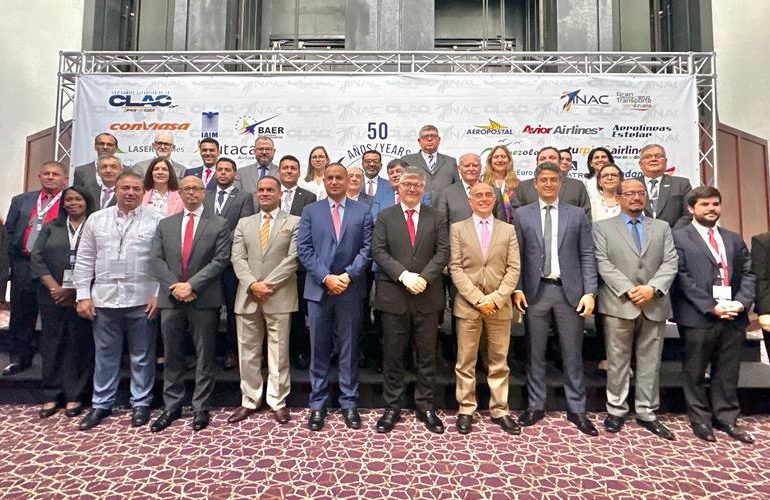 Caracas.- The Dominican Institute of Civil Aviation (IDAC), under the leadership of its General Director, Héctor Porcella, recently made a significant presentation in Venezuela during the annual session of the Executive Committee of the Latin American Civil Aviation Commission (CLAC). The presentation focused on the notable progress made by the Dominican Republic in the development of research aimed at creating alternative fuels for aeronautical activities.
This presentation, conducted by key representatives from IDAC's Sustainable Development Directorate, took place as part of the International Seminar on Alternative Fuels. The seminar's primary objective was to provide guidance to states on adopting best practices to achieve the goal of zero Carbon Dioxide (CO2) emissions in aviation.
Miguel Amaury Mejía, the Director of Sustainable Development at IDAC, and Judit De León, the Management Coordinator, elaborated on the efforts undertaken by the Dominican Republic to gradually reduce greenhouse gas emissions. They emphasized the importance of the Santo Domingo 2023 Declaration, which was signed by aviation authorities and other relevant regulatory bodies. This declaration commits to a roadmap for research and certification efforts toward the creation of sustainable aviation fuel (SAF) from sugarcane biomass materials, as well as research into the use of solid waste.
During the seminar, Juan Carlos Salazar, the Secretary General of the International Civil Aviation Organization (ICAO), encouraged governments in the region to invest in formulating projects, research programs, capacity-building initiatives, and policy development to facilitate the production of sustainable fuels using the ACT-SAF method.
This significant event received sponsorship from the International Civil Aviation Organization (ICAO) and was hosted by the National Civil Aviation Institute of Venezuela (INAC).
The Dominican delegation participating in this seminar included Héctor Porcella, the General Director of IDAC; José Marte Piantini, the President of the Civil Aviation Board; Julio Peña Guzmán, the Ambassador to the ICAO; and Bernarda Franco, the Legal Director of IDAC.