500 boxes of eggs from the Dominican Republic burned in Haiti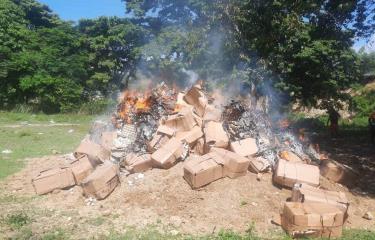 Port-au-Prince.- Customs authorities in Belladere, a commune in Haiti near the border with the Dominican Republic, seized approximately 15,000 eggs contained in about 500 boxes. These eggs, originating from the Dominican Republic, were confiscated on October 13 when they were introduced through the Carrizal border crossing.
This operation was conducted as part of the Customs Brigade service's mission to protect against merchandise smuggling, as authorized by Article 259 of the Customs Code of 1987. Authorities in Belladere, including the municipal mayor's office and Polifront, proceeded to burn the seized merchandise.
The owner of the 500 boxes of eggs was identified as a Dominican-Haitian citizen named Fredy. The eggs were acquired by a Haitian merchant who has been in the egg business for over three years. Witnesses reported that the merchant was surprised by this action, as he had not previously encountered such a situation with the products he sold.