AES Dominicana's novel energy storage system gets annual award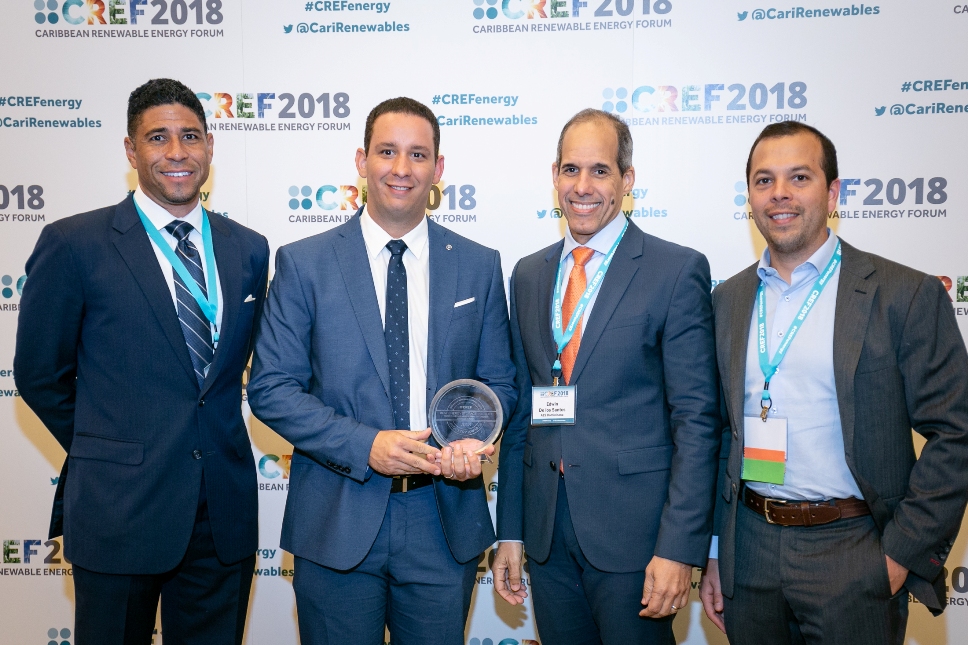 Edwin De Los Santos, second from left.
Miami.- AES Dominicana president, Edwin De los Santos recently received the award of the year for the innovative Energy Storage System, in the Tenth Caribbean Renewable Energy Forum (CREF 2018), a valuable technology that adds value and quality to electricity in the Dominican Republic.
The CREF 2018 is the largest annual meeting of the electricity market and this year was held from November 7 to 9, in Miami with the participation of more than 500 representatives from around 50 countries and an array of exhibitors that focused on the most current issues related to electrical development.
AES Dominicana's award-winning innovative technology operates on the basis of lithium-ion batteries and a sophisticated electronic control system and artificial intelligence, being able to store and release energy and power when and how it the electrical grid requires.
De lo Santos expressed his gratitude to the company Fluence, "for the support and professionalism provided to AES Dominicana in the development of its Energy Storage System and thanks and congratulates the Superintendence of Electricity for the vision of a future national electrical system strengthened in energy regulation."
In 2017, AES Dominicana announced the start-up of 20 megawatts of energy storage through the power plants AES Andrés and Dominican Power Partners, thanks to the system developed by AES Corporation that provides frequency regulation service to the national electric grid (SENI).
"It's a model that is trending around the world for its multiple benefits, such as the possibility of integrating renewable energies into electrical systems in a sustainable, economic and more reliable, ensuring a storage between 4 and 6 hours continuously," AES Dominicana said in an emailed statement.
Among other functionalities, the system includes software developed exclusively by AES to make this technology a tool capable of addressing multiple distribution, transmission and generation needs in a cost-efficient manner.
Recently, AES Dominicana reported that it was a finalist in five categories in the 20th version of the competitive Platts Global Energy Awards, organized by Platts International to recognize the best representatives of the energy industry in more than 150 countries.