Dominican Republic becomes a partner of the Global Entry program to facilitate entry to the US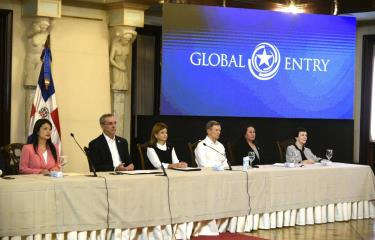 Santo Domingo.- Foreign Minister Roberto Álvarez announced that the Dominican Republic has become a partner of the United States Customs and Border Protection's Global Entry program. This program will facilitate the entry of Dominicans with visas into the United States. Dominicans with visas will be able to request entry online and then use inspection kiosks upon arrival, eliminating the need to wait in line.
By joining the Global Entry program, the Dominican Republic becomes the 16th country and the sixth in Latin America and the Caribbean to be part of it. The successful integration into the program is the result of collaborative efforts involving the Dominican government and various public servants, including the director of Customs.
President Luis Abinader expressed his gratitude to President Joe Biden for the Dominican Republic's inclusion in the program. He stated that this decision reflects the strong relations between the two countries and opens up new opportunities to strengthen ties. The announcement was made in the presence of government ministers, officials, and business representatives.
This achievement was unveiled after a meeting focusing on the country's citizen security strategy, in which President Abinader participated alongside the heads of state security institutions.