Moonshine still raided in Barahona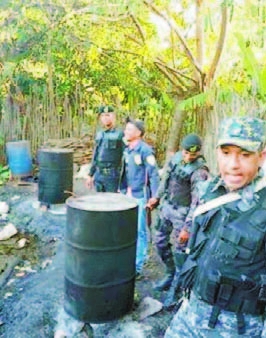 Police raid on still. Image: hoy.com.do
Santo Domingo.- The National Police dismantled an illegal distillery producing adulterated alcoholic drinks in the southwestern province of Barahona on Tuesday.
During the raid on a private home on Calle Víctor Medrano in the Los Botaos area of the Municipality of Cabral, police agents found 27 tanks and several distillery tubes, a flask for illegal sales, several empty bottles, and several gallons of the illegally distilled alcoholic drinks known as klerén and triculí.
Acting in response to a tip-off from local residents, prosecutor Iván Ariel Gómez Rubio arrived on the scene with Brigadier General Orlando Pichardo Reynoso, southern regional director of the National Police, accompanied by members of the Criminal Investigations Department (DICRIM) and other officials, bearing a warrant for search, confiscation and arrest.
The National Police are searching for the owner, who is a fugitive from justice.