A Haiti without water poses threat to Dominican Republic: official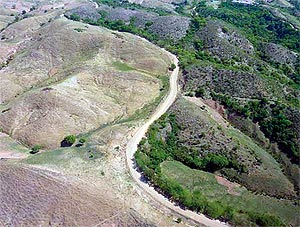 Artibonito, river basin deforestación. Photo UNEP
Santo Domingo.- Apart from the migratory disputes Dominican Republic's top concern with Haiti should be the day in which that nation runs out of water, that could fuel a crisis with violent consequences.
Environment minister Francisco Domínguez sounded the alarm Fri., noting that the neighboring country would face drought and lack of water in as little as 10 years.
He said of Port-au-Prince's 3.0 million inhabitants, only 5% of the homes have pipelines and the rest use well water, which he affirms is polluted.
"The water from the wells they are using is almost latrine water and with little rain every day the water is less, and with little rain, the wells of Port-au-Prince have water intrusion, that is, there is less water, contaminated and brackish," he said.
Domínguez asks: "What awaits Puerto Principe in 5, 10 or 15 years? Where will the waters go to provide water to 7 million Haitian brothers? What will happen when the product of climate change register extensive drought processes?"
He said the concerns should prompt the Dominican Republic to work for itself and for Haiti, protecting the country's forests and rivers.
"What we as Dominican should draw our attention is the day that Port-au-Prince runs out of water, because nobody is going to die of thirst and everyone will come running here and there would be a crisis in 10, 15 years that can degenerate into a crisis of violence, of incompatibility in coexistence and of serious difficulties for the Dominican Republic and for Haiti," he warned.