VP breaks with ruling party in 'hushed' payment scandal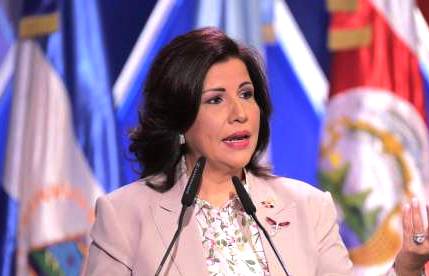 Santo Domingo.- The Chamber of Deputies on Thurs. again rejected the opposition party's (PRM) proposal to appoint a special commission to investigate the government's advertising contracts in the tens of millions with Brazilian convict Joao Santana.
Since last week opposition deputies led by Faride Raful, have tried to advance the proposal, which has been rejected so that "it can continue its course via the legislative secretariat."
But the brouhaha took a sharp turn yesterday when vice president Margarita Cedeño, said Raful deserves all respect in the debate sparked by the allegedly hushed payments to Santana and his wife Monica Moura.
Cedeño tweeted that the confrontation enriches democracy and transparency of the governments that the Dominican Liberation Party has headed.
"Faride Raful deserves all the respect in this debate that, at the end of the day, enriches our democracy and the transparency that we have sown in the PLD governments. Accountability is part of our responsibilities," the vice president said.
Raful denounced that the Government paid RD$1.4 million for advertising to Santana and Moura.