Authorities seize seven firearms, money and other objects in an operation against card cloners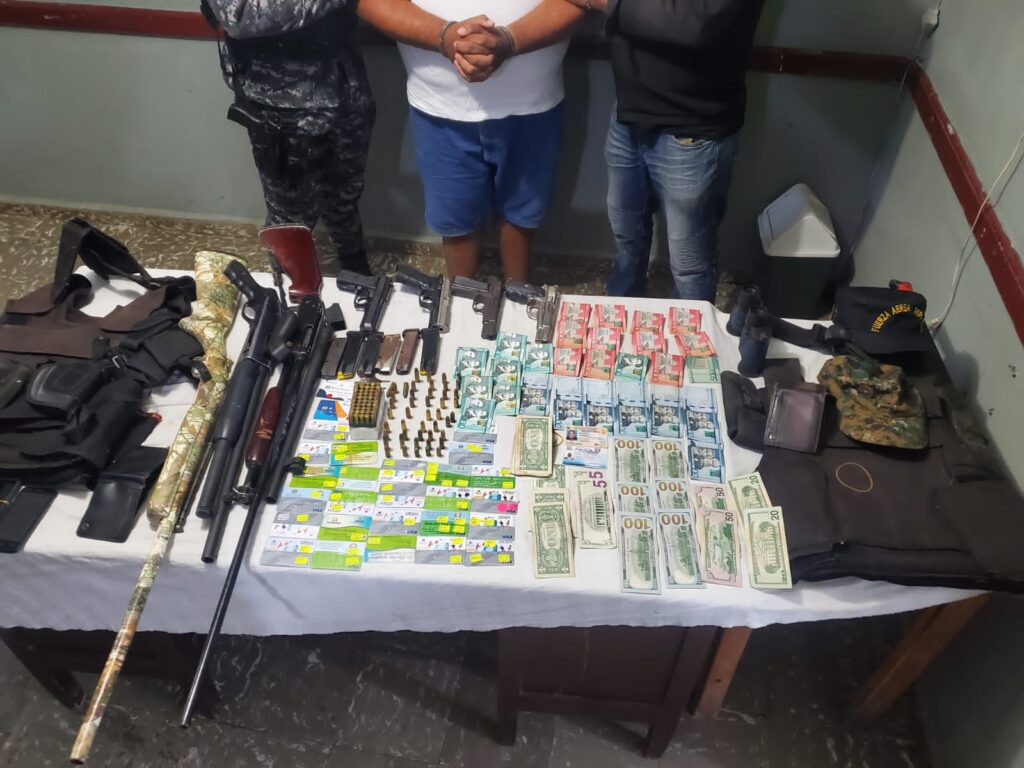 During a raid carried out as part of an operation against people identified as alleged social aid card fraudsters, police officers seized seven firearms, 84 capsules, five cell phones, and the sums of 29,500 pesos and 813 dollars. A brand pistol was seized during an intervention carried out in collaboration with members of the Public Ministry in the Las Flores sector, in the municipality of Bayaguana, where the detainee Franklin Onelis Sánchez Valdez (a) El Gordo and/or La Brisa, 50 years old, currently resides. FEG, 9mm caliber, with a theft report dated August 23, 2022, filed by its owner, a resident of Pantoja, Santo Domingo Oeste.
Another Taurus PT 92 brand, 9mm caliber, another Carandai brand, 9mm caliber, a Maverick brand shotgun, Mossberg model, 12mm caliber, and two other shotguns with illegible markings and numbers were also discovered. A 12mm shotgun barrel, two pistol magazines, two bulletproof vests, 76 9mm caliber capsules, six 38 caliber capsules, two salvo capsules, a shackle, a pistol leg, and three belt loops were also confiscated. to carry pistols, a pistol holster, an extensible iron baton, binoculars, a machete, and two caps bearing the letters of two of the country's military organizations.
In addition, 26 social assistance cards, a Municipal Police card, five cell phones of various brands and models, and the above-mentioned monetary sums were seized. The weapons are being purified, while the detainee will be placed under the control of the Public Ministry for legal purposes.