Young people march for the homeland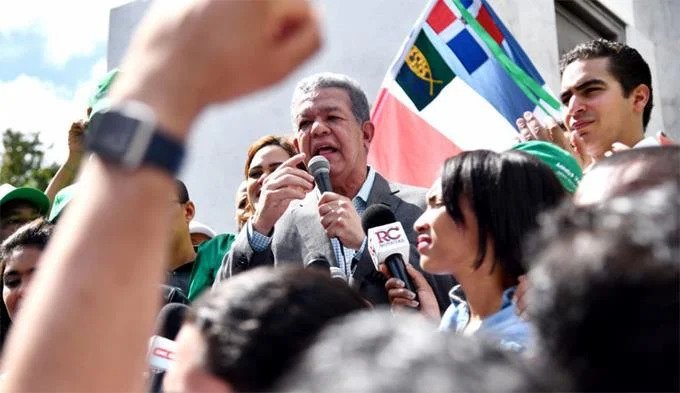 "By the same nature, the old must disappear and the new must substitute and take its place; and young people as a new generation have always been the engine of change in every society, especially in the Dominican Republic," former President Leonel Fernández said yesterday in front of thousands of young people and supporters of the People's Force (FP), who marched "Together for the Homeland" on the occasion of National Youth Day. Thousands of protesters, including some young people in wheelchairs, left Parque Colón in the Colonial City and walked along the main street of the famous and historic El Conde street, wearing flags, caps, and T-shirts that alluded to the political organization chaired by Fernández.
"Youth, the combatant, fighting for the future and the present!" chanted thousands of FP supporters over and over, while others blew their trumpets until they couldn't anymore. The patriotic youth march, led by former president Leonel Fernández, began its route towards the Altar of the Homeland a few minutes after the clock struck noon. The cadets left a floral offering as a mark of respect for the 210th anniversary of the patrician Juan Pablo Duarte's birth, which was celebrated on the 26th. After placing a floral arrangement and singing the notes of the national anthem, Fernández delivered his speech in front of a jubilant crowd and thousands of supporters waving huge flags of the country and the FP. Former President Fernández emphasized the presence of young people, who arrived early in the morning to attend the patriotic event dedicated to them and the country.
"I go home calmly from here (Altar de la Patria) because I see so many young faces committed to the future of the country, for which I am convinced that no matter the troubles, challenges, and threats, there will always be the Dominican Republic always and at the service of the best interests of the Dominican people," Fernández said with emotion and merriment.