The indirect incidence of storm Bret would begin to be felt in the Dominican Republic on Friday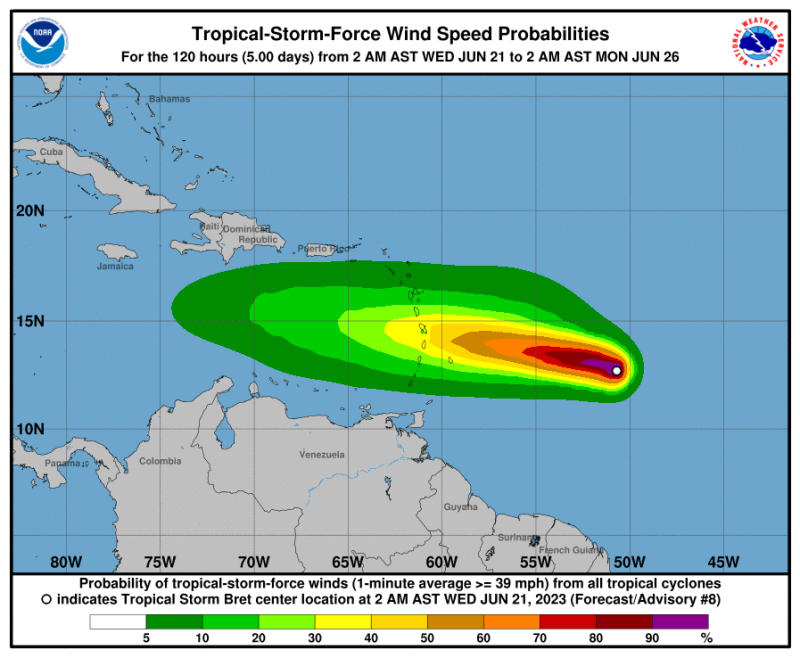 The National Meteorological Office (Onamet) has provided an update on tropical storm Bret, which is currently located approximately 1,000 km east of the Windward Islands in the Lesser Antilles. The storm is moving west at a speed of about 26 kilometers per hour, with maximum winds reaching 95 km/h and higher gusts.
Onamet advises the various civil protection institutions and the general population to stay informed by following the bulletins issued by the National Forecast Center.
Starting on Friday, the indirect influence of Bret's circulation will begin to impact the Dominican Republic. Changes in wind direction to the northeast will be observed, accompanied by a slight increase in wind speed. This will result in scattered showers and thunderstorms across various regions including the northeast, southeast (including Greater Santo Domingo), southwest, and the Central Cordillera in the afternoon. These showers will continue intermittently into the night and early morning hours of Saturday.
For Wednesday, June 21, temporary showers are expected along the south coast in the early hours of the day, specifically in provinces such as Peravia, Azua, and Barahona. These showers will dissipate as the morning progresses.
In the afternoon, the country will experience scattered clouds and mostly clear skies. Isolated downpours and possible thunderstorms are anticipated in the northwest, northeast, and central mountain range, affecting provinces such as Santiago Rodríguez, Elías Piña, Dajabón, Santiago, La Vega, Monseñor Nouel, Monte Plata, and Hato Mayor. During the night, a tropical wave will bring slightly increased moisture, leading to scattered showers in eastern parts of the country, along the Caribbean coast, and the Central Cordillera.
On Thursday, June 22, the available humidity in the air mass, combined with the passage of a tropical wave south of the country, will likely result in some morning downpours along the Caribbean coast. In the afternoon, with the effects of the daytime cycle, scattered downpours, and isolated thunderstorms are expected in provinces of the northeast, southeast, central mountain range, and the border area until the early hours of the night.
Onamet is also monitoring another tropical wave located southwest of the Cape Verde Islands. This wave has a high potential (around 70%) of reaching tropical cyclone status within the next 48 hours. However, its current position and projected path do not pose any threat to the Dominican Republic at this time.