Diversity & collaboration highlighted at historic March 28th mayor's meeting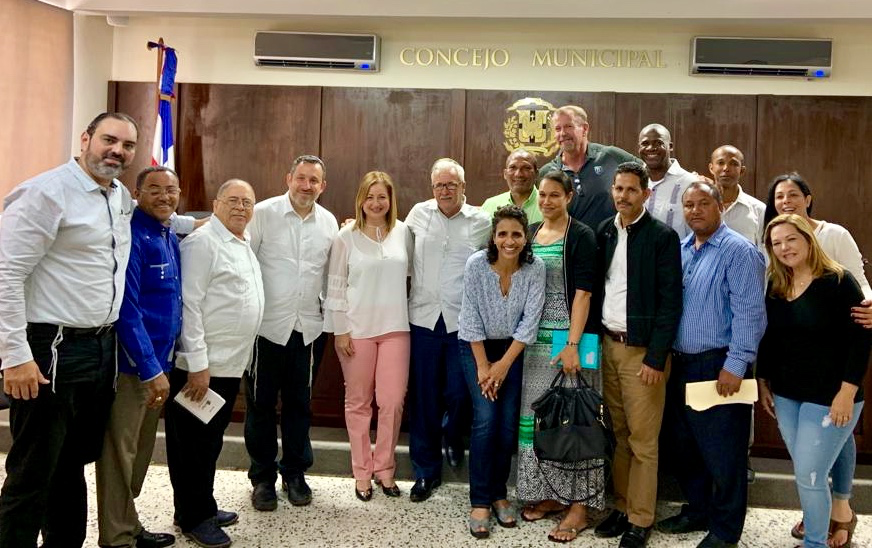 From L-R: Oscar Salinas, Pastor Sebero Cordero from Church of God in Sosúa, unknown, Rav Itzhak Shapira from Ahavat Ammi Ministries, Sosúa Mayor Ilana Neumann, original Sosúa settler Benny Katz, Iris Quezada from Ahavat Ammi Ministries, unknown, Mayor's Exec Asst., Elihu Baver Board Chairman of Sosua75, unknown, Pastor Manny Ramirez-Valera from Iglesia De Dios Somos Adoradores, Juan Carlos, unknown, Ana Salinas, and Maria Luisa Monsalve
Renn Loren
Sosúa
In this ongoing series about cultural shifts taking place in Sosúa, I track the reinvigoration of the history that is reawakening the spirit of humanity and interdenominational collaboration in this north coast town. Its significance to the Jewish community and unique example as a model of productive, positive immigration, cross-cultural, interracial tolerance, and inter-faith cooperation provide a bright spot in the darkness of today's improbably divided and increasingly intolerant world.
On March 28th, a highly significant historic convocation took place in Mayor Ilana Neumann's chambers at the Sosúa City Hall through the efforts and urgings of "Ahavat Ammi Ministries, original Sosúa settler Benny Katz, Board Chairman of Sosua75.org Elihu "Hugh" Baver, and multi-denominational country-wide Dominican Church and religious leaders representing all 32 Dominican provinces in the country.
Following an initial blessing led by "Rav" Shapira many creative ideas were exchanged, all of which amplified the immense significance of Sosúa being a model of refugee adoption during WWII. One of the strongest suggestions put forth at the meeting was the notion of better and more actively utilizing the current and mostly vacant Sosúa Synagogue" for religious services encompassing all denominations;  contemporarily transitioning it to a "place of peace and worship" for individuals, groups, and tourists from around the world. Unfortunately this Passover, after many years of Passover gatherings, there is no community Seder or service scheduled this year.
One positive sign was that by meeting's end Mayor Neumann agreed to affix a Mezuzah (doorpost) with specific Hebrew verses from the Torah to the entrance doorway of the Sosua Municipal Town offices.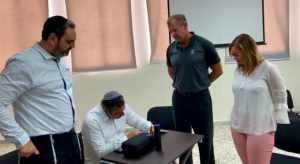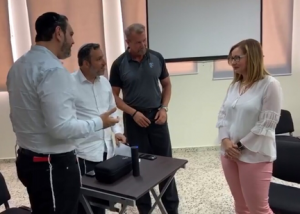 Along with Oscar Salinas, Rabbi Itzhak Shapira, and Hugh Baver signing a copy of Shapira 's most recent book for the Mayor
After the town hall meeting, a tour of the Sosúa town Jewish Cemetery led by Benny Katz continued on with a tour of the Sosúa Sanctuary and adjacent Jewish Museum which contains old photos, interesting news articles, and artifacts from the founding of the original community.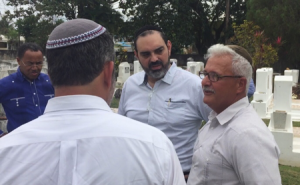 Originally from Israel "Rav" Itzhak Shapira, was hosted for his 3-day visit in Sosúa at the home of Elihu & Jocelyne Baver in nearby Cabarete. Elihu "Hugh" Baver is the 2014 Founder of the MA-based 501(c)3 NPO Sosua75.org whose mission is to raise awareness of two little known yet strongly interconnected WWII Holocaust episodes; the 1938 Evian Conference, where, of the 32 countries in attendance, only the Dominican Republic opened its doors and welcomed displaced European refugees. And of the subsequent establishment of the Sosúa agricultural settlement of 700 refugees who first arrived here in 1940.
Quoting Sosúa75 Chairman Baver "What makes the story of The Evian Conference, known as "Hitler's Green Light to Genocide" and the establishment of Sosúa so unique and compelling in today's world is that what happened here in 1940 is a role model of best practices related to immigration and refugee challenges today. Not only did the Dominican Republic and its inhabitants  "admit" these Jewish refugees, they fully "accepted" them, provided them with a path to citizenship, and here they became full productive members of society."
Coincidentally, this April also marks the 5th anniversary of Sosua75's conception. Recognizing the remarkable synergies of the Jewish & Dominican cultures, last November Mr. Baver and his wife relocated to Sosúa to gain a first-hand perspective of the proposed construction of a Jewish–Dominican Cultural Education Center in the area.
Some of the planned elements of the proposed large community municipal cultural center include a baseball stadium and state of the art baseball training center, a butterfly conservatory honoring The Mirabal Sisters or "Las Mariposas," the 3 Dominican Matriarchal Sisters whose underground political movement overthrew Dominican dictator Rafael Trujillo, a perma-culturally designed community organic farm showcasing local fruit and produce. The facility will both employ local community members and return food proceeds to them. The grounds will also feature botanical gardens showcasing indigenous plants and flowers, an outdoor amphitheater for concerts, plays, other entertainment venues, and a summer camp where young adults can both immerse themselves in the rich culture of the area while enjoying the beautiful year-round climate, water sports, and other local tourist attractions.
Last summer at the Hotel Royal in Evian, France, the site of the first original Evian conference, Baver successfully directed the "Revisiting Evian" 80th Anniversary "International Educational Symposium on Human Rights and Global Anti-semitism." The July 10 and 11th event with its theme of "Remembering the Past & Plotting a Course for the Future" featured International Jewish Leaders, French & WWII Historians, Academicians, Authors, Government Officials, and Human Rights Experts.
In addition to the Hotel Royal and Evian Resort agreeing to place a permanent bronze commemorative plaque, supported by Benefactors of some of the leading global Jewish organizations, in the same chamber where the original 1938 Conference convened, Baver was presented with the Evian "Gold Key to the City" and "Distinguished Citizen" award from the Evian, France Mayor's office.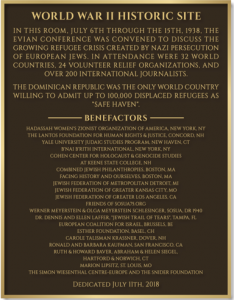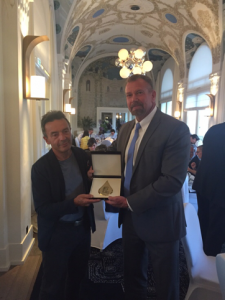 Two of last summer's "Evian Revisited" attendees were two of the original refugee settlers who were born and still reside here in Sosúa, Edith Meyerstein, and René Kirchheimer.
One of the unexpected positive outcomes stemming from last year's "Revisiting Evian" event was the initiation of paperwork by Keynote Speaker Dr. Shimon Samuels, 30 Year Director of International Relations from the Simon Wiesenthal Center in Europe, for Sosúa to be recognized as a UNESCO World Heritage Site.
Submitted through his office, ambassador Jose Antonio Rodriguez, Permanent Delegate of the Dominican Republic to UNESCO recently cited his appreciation for the recognition given to this country. In a November 2018 ListinDiario news article Ambassador Rodriguez added: "We humbly appreciate this important recognition of a historical fact that highlights the generous and hospitable nature of Dominicans."
According to the diplomat, "the recognition not only celebrates a political decision but also highlights the "warm and welcoming" attitude of the Dominican people, according to the testimony of the migrants and their descendants who claim to have arrived in paradise"
Rodriguez is making efforts for UNESCO to recognize and disseminate this historical fact, as he recalled, "as a reference, in a world where the hate speech, racism and xenophobia are multiplying, we consider the Dominican example invaluable and praiseworthy."
UNESCO recognizes solidarity of Dominicans during World War II
Currently, Baver and Sosua75 are in the strategic planning process for a follow up "Evian III" Conference slated for this Fall. This year he will be enhancing the format by inviting college students or "Student Diplomats" coming from the same 32 original countries. Coincidentally, there are 32 Dominican provinces, the same number of countries who attended the 1938 Evian Conference.
Through once again revisiting the history and lasting impact of the 1938 conference, this year's educational objective is to inform and educate future generations as to why, with the exception being the DR's important contributing role, the meeting, was a failure and the correlated significance to today's global contemporary challenges of immigration and refugees.
One of Baver's goals while here is to hopefully recruit a suitable student diplomat candidate hailing from Sosúa which would be genuinely representative and fitting. To this end, Baver met with Sosua Education District leaders about this last week.
Sosúa Education District meeting with top leaders discussing the Student Diplomat invitation to "Evian III" Student Leadership Conference in September
Community leaders here, including the Mayor and Jewish Museum president Yvonne Mills, have a huge moral responsibility to make the best possible representation of this critical world history and in exercising extreme care, and maintenance of the only remaining physical structures/remnant in the town, the original Synagogue and the adjacent Jewish settler Museum.
Based on the inspiration garnered by Rav Itzhak Shapira on his recent trip, the rabbi and his team will be returning to the Dominican Republic on April 25th for a follow-up meeting and to lead and further promote the "Marcha de la Vida" March of Life Holocaust Commemoration Parade, expected to gather 7-10 thousand in Santo Domingo on Sunday, April 28th, 2019.
A big first step towards inter-faith and inter-cultural unity has taken place, the opportunity for real Omni-denominational, multicultural breakthroughs has been rekindled, and the spirit of openness, cooperation, and human inter-connectedness has been reignited through an interdenominational recognition of a powerfully progressive history that is resonating into the present. History is happening in Sosúa.
Additional information concerning the Sosua75 project and vision can be found here https://Sosua75.org/