US Embassy delivers mobile clinics for north region patients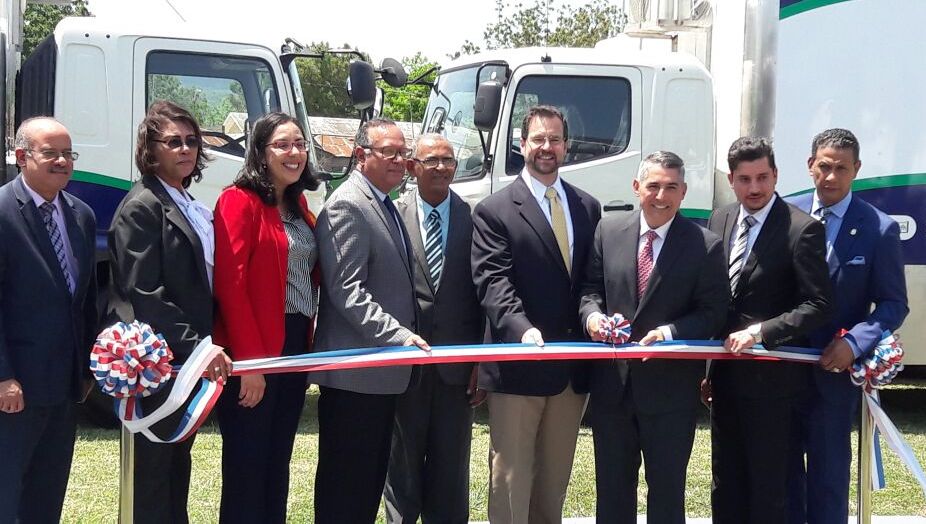 Dr. Jose Puello, Dr. Austria De la Rosa, Wendy Alba, Dr. Nelson Rodriguez, Leonardo Grullon, Patrick Dunn, Dr. Nelson Arboleda, Dr. Arisnachy Gomez, deputy Robinson Díaz.
Santiago.- US Embassy chief  of staff, ​​Mr. Patrick Dunn, and the director of the Centers for Disease Control and Prevention (CDC) in the Dominican Republic, Dr. Nelson Arboleda, presented today, on behalf of the US Government, two clinics to institutions in the Dominican state that offer community health and HIV / AIDS services in Santiago and Puerto Plata provinces.
Dr. Nelson Rodríguez Monegro, Director of the National Health Service, was present at the event held in the El Platanal community in Santiago.
In an emailed statement, the US Embassy added that Dr. José Puello, Deputy Minister of Collective Health, was representing Dr. Altagracia Guzmán, Minister of Public Health; Lic. Wendy Alba, Director of PSI / SFH in the Dominican Republic; and Dr. Austria de la Rosa, Manager of the Norcentral Regional Service.
"On behalf of the beneficiaries of these clinics, during the event a testimony was given by Mr. Jacob Valcimond." The US Embassy said.