Ernesto Veloz: "FBI report clears DR tourism from a false weight"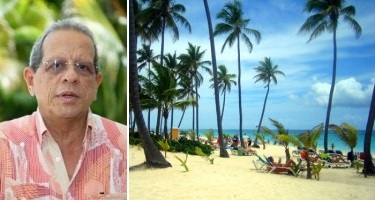 "With the report the negative cloud that settled on tourism will disappear"

 Augura tourism sector will resume growth
After the results of toxicological tests performed by the FBI on tourists who died in hotels in the country became known, it was revealed that the tourists died from natural causes, the president of the Association of Hotels and Tourism Projects of the East ( Asoleste ), Ernesto Veloz told arecoa.com that the Office of Consular Affairs of the Department of State of the United States, with the reports, has relieved tourism in the Dominican Republic from the false weight on the situation that has affected the destination for several months.
"It is something we already knew but that the Federal Bureau of Investigation will report the good news to the Fox News 43 chain, which has highlighted the issue since its inception. It is a very important step to clarify the situation and reposition the country as a safe holiday destination," he said.
Veloz said that "we were really always confident that the results would favor the security that has always prevailed in the country and in the East" but that the DR and all the institutions related to tourism had to wait and respect the due process that merited each case so that the truth would come to light.
"The largest market of Dominican tourism is the United States, so we were the most interested in a neutral organization that had no interests to ensure the clarification of the facts," he added.
The president of Asoleste also said that with the respective results, and although it is necessary for the Attorney General's Office to report on them, the negative cloud that settled on tourism and the country as a destination will disappear.
"We hope that from now on it will begin a process of important improvement for the destiny of the DR and the East. The most important thing is that everything is transparent for the future," he said.
Veloz explained that the months in which the country's credit was felt with a decline in hotel occupancy, the sector took the opportunity to work and capture other markets while creating repositioning strategies.
"In this short time, we have captured new markets and have noticed an important recovery of the sector. Now, and with the good news, we will be working to close the year with an excellent occupation and start 2020 on top," he added.
He said that "there is no harm that good does not overcome," because in his opinion the unforeseen served to improve many infrastructures and thus, in the future, to offer an improved offer of lodging facilities.
"Several hotels closed due to low occupancy but this will help to improve not only hotels but also in strengthening security so that these things do not happen again," he said.
In the case of fake news, Veloz emphasized that it is a practice that should be sanctioned since it considers unnecessary the bombardment of unconfirmed information in cases that affect the credibility and stability of a sector that contributes to the economy of a country.