The country strengthens its relations with Canada on tourism issues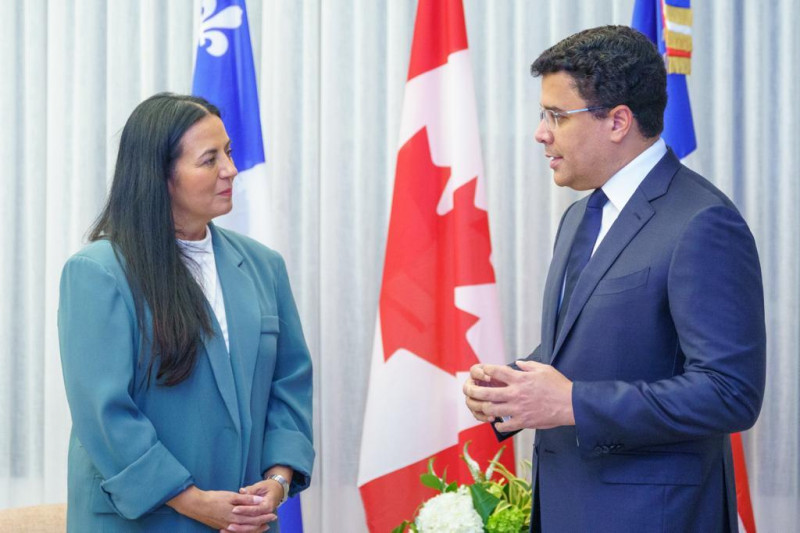 The Minister of Tourism, David Collado, met with his Canadian counterpart, Soraya Martínez, to strengthen relations between the two countries and promote tourism.
Toronto.- The Minister of Tourism, David Collado, met with his Canadian counterpart, Soraya Martinez, with whom he discussed concrete plans to strengthen tourism relations between the Dominican Republic and Canada and thus ensure that more visitors from that nation continue to come to the Dominican Republic.
Collado described as "transcendent" his meeting with the Canadian Minister of Tourism, taking into account that this country is the second issuer of tourists arriving there.
"This meeting is a great step forward to ensure greater connectivity between Canada and the Dominican Republic, which will result in a substantial increase in the arrival of Canadians to Quisqueya and bring closer the projection of reaching 10 million tourists by the end of the year," explained Collado.
In the meeting between the two tourism officials, bilateral issues were discussed to strengthen relations and promote tourism between the two nations, the second most important source of tourism for the Caribbean country.
Minister Collado's agenda in Toronto included meetings with Sunwing Travel Group, Air Canada Vacations, and other travel agents and tour operators.
This meeting was part of a four-day visit by Minister Collado to Canada, where he held his traditional road shows in Toronto and Montreal, attended by more than 200 tour operators, travel agents, and airline executives.
January-August 2023 figures
Between January and August of this year, tourist arrivals through the country's different airport terminals reached 5,544,780 visitors, representing an inter-annual increase of 13.1%, equivalent to 640,617 more than in the same period of 2022.
According to Central Bank figures, 665,084 non-resident passengers arrived by air, of which 83.5% were foreign travelers who chose the country as their vacation destination, and the remaining 16.5% were non-resident Dominicans.
When resident and non-resident travelers are added together, total arrivals between January and August reached 6,177,287 passengers, according to the Central Bank's January-August Tourist Flow Report. This represents an increase of 14.2% over 2022, with a record of 767,215 additional visitors.
65.8% of the visitors for this period correspond to North America, 14.2% from Europe, 13.7% from Central America and the Caribbean, while the remaining 0.4% come from Asia and the rest of the world.
Punta Cana International Airport continues to be the air terminal that receives the most significant number of visitors with 68.2%, followed by the AILA with 18.8%, Cibao Airport with 5.5%, Puerto Plata air terminal with 4.9%, La Romana 1.1%, El Catey Samaná 1.0% and La Isabela 0.6%.
80.2% of the tourists who visited the country between January and August were mainly for recreation, and 50.9% were between 21 and 49.
16% of tourists from Canada
Of the 65.8% of tourists arriving in the country from North America, 48.6% were from the United States and 16% from Canada.
The most significant contribution to the inter-annual increase in the total arrival of non-resident passengers corresponds to Canadian tourists, showing an accumulated variation of 315,291 passengers in the first eight months of this year, 73.3% more than those arriving from that country in the first eight months of 2022, as confirmed by BC data.