Sosúa beach vendors hold protest to demand buildings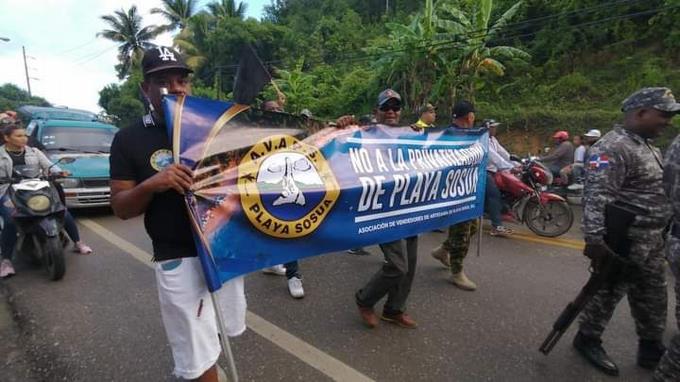 Source: External
The Sosua beach vendors walked for nearly six hours from that municipality to the Provincial Government to deliver documentation containing claims demanding the construction of three plazas on the beach, a bridge in Cangrejos, and a hospital. José Manuel González, known as Lilo, the vendor's spokesperson; Andrés Batista, the entity's president; and other members stated that they marched peacefully and delivered a document to the Provincial Tourism Office and another to the Governor's Office demanding vital works for Sosua. They noted that the Crab Bridge has been experiencing problems since April and that its replacement was announced in September. Similarly, they stated that the construction of the Sosua hospital is a community claim dating back more than 30 years.
A commission from the entity was received in the governor's office by Claritza Rochette's assistant, Danna Ydalina Taveras, as well as its director of communications, Ariel Heredia, and other officials. The driving force behind this claim is the construction of a vendor plaza, which was announced on June 25 of this year in an activity led by President Luis Abinader and Minister of Tourism David Collado, with a 615 million investment for a clean-up plan and the demolition of Sosua. José Manuel González assured that they had agreed to the construction of three plazas, one in the southern part of Los Charamicos, one 75 meters in front of the beach, and one 150 meters on the north side, the side of El Batey and that currently only one on the south side with only 35 meters to the beach is being built, which is intended to remove them completely from the beach area, which is what they have been fighting for all along.
They demanded a halt to work on the current plaza and constructing the three agreed-upon plazas.