Spirit airline expands its network in Puerto Rico with five new routes to the U.S.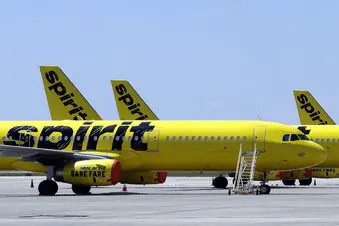 San Juan, PR.- Spirit Airlines began operating five new nonstop routes between San Juan and cities in the United States on Friday, adding 213,304 additional airline seats to the inventory available during 2023 on the island.
The new flights will connect Luis Muñoz Marín International Airport with Atlanta, Chicago, Dallas, and Detroit starting today and with Hartford beginning next June.
"We are very excited about the potential that this increase in flights represents for Puerto Rico's economic growth," Puerto Rico Tourism Company (PRTC) Executive Director Carlos Mercado Santiago said in a statement.
The economic impact of this Spirit expansion on the local treasury will be more than $118 million, according to Puerto Rican authorities.
Spirit also increased its options at Puerto Rico's main airport to include five flights to Orlando and two daily flights to Baltimore, Fort Lauderdale, and Newark.
"Spirit's decision to add new connections from five major U.S. hubs and increase the frequency of four other flights aligns with our vision of strengthening tourism activity as one of the strongest sectors of our economy," Mercado Santiago said.
Read more: David Collado bets on religious tourism in Higüey
The PRTC executive director indicated that "the collaboration of the Government of Puerto Rico with Spirit will allow us to position the destination as one of the main destinations in the Caribbean and to reach new markets."
For his part, Spirit Airlines senior vice president and chief marketing officer Bobby Schroeter noted that the airline's commitment to Puerto Rico "spans more than two decades."
"We are very excited to be able to celebrate today this expansion at the San Juan airport, which now has 16 nonstop flights and additional frequencies to key markets," he said.
Spirit and its partners employ nearly 1,000 Puerto Ricans at the island's three airports and its maintenance facility in Aguadilla. In addition, this new expansion creates about 30 new jobs in San Juan.
Frontier Airlines also announced yesterday the start of its eight new routes from Puerto Rico, which include Cancun (Mexico) and U.S. cities such as Cleveland, Baltimore, Chicago Midway, and Dallas-Fort Worth.