Farmers give away thousands of eggs due to alleged exclusion of their purchase from producers due to border closure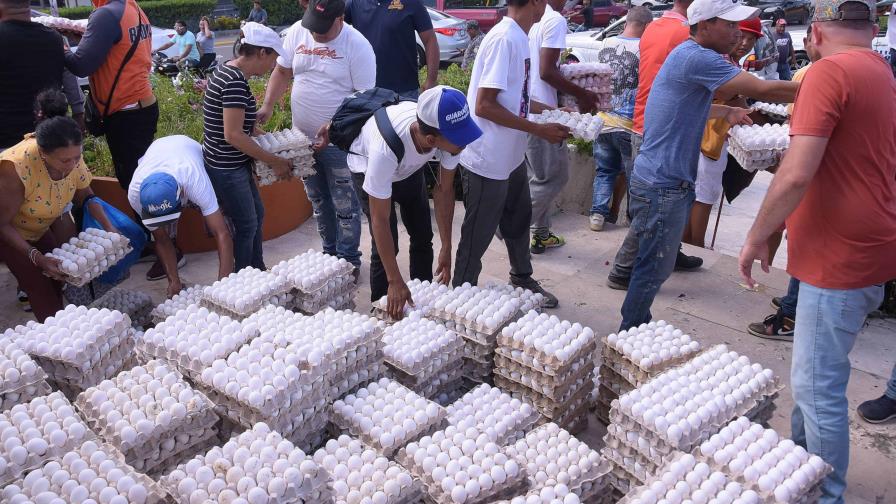 Dajabon.- Small and medium-sized egg producers from various regions of the Dominican Republic organized a demonstration in which they distributed thousands of eggs to the public. The demonstration was held to draw attention to their alleged exclusion from government purchase programs intended to support poultry farmers affected by the border closure with Haiti.
The producers brought 200,000 units of eggs to the Farmer's Monument in Moca, located on Ramón Cáceres Avenue. They distributed the eggs to the public to prevent them from going to waste on their farms.
Elvis Quezada, one of the organizers, stated that their objective was to highlight the imminent financial hardship faced by egg producers due to the ongoing border blockade with Haiti. They accused the government of favoring large businessmen affiliated with the current administration in the distribution of aid programs.
Quezada called on the authorities to disclose the names of those benefiting from these "clandestine purchasing" programs.
Roberto Fernández, another poultry farmer, invited agricultural officials from the Dominican government to visit Moca and witness the plight of the producers whose eggs are going to waste. He expressed hope that President Abinader would intervene to include small and medium-sized egg producers in the government's purchase program.
The producers estimated that the cost of production for eggs is approximately 5.15 pesos per unit. However, they are selling them for 3 pesos per large egg and 2.20 pesos for medium-sized eggs, resulting in losses of 2.15 pesos per unit for large eggs and 2.95 pesos for medium-sized eggs.
Quezada and Fernández called on the government to compensate them for their economic losses, which they claim amounted to 497 million pesos during the days of the border closure. Additionally, the border closure has led to unemployment for hundreds of people in the region.
The demonstration took place under police supervision, and people from various backgrounds stood in long lines to receive the distributed eggs. The producers aimed to bring attention to the challenges they face and the need for support in light of the border closure and its impact on their livelihoods.