US agents stop 4 yolas with 126 boatpeople, including Dominicans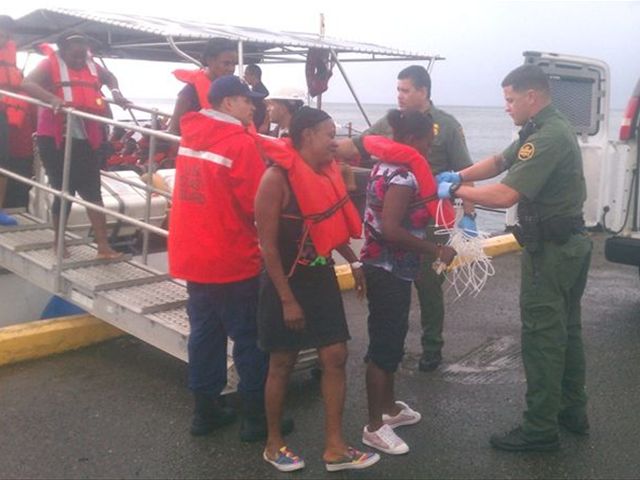 Aguadilla, Puerto Rico – U.S.Customs and Border Protection (CBP), U.S. Coast Guard and the Puerto RicoPolice Department (PRPD), working under the Caribbean Border Interagency Group(CBIG), intercepted 126 undocumented migrants from the Dominican Republic, Cubaand Haiti, in 4 separate events since Jan. 20.
Among these four groups, 30 migrants with priorimmigration or criminal records will be prosecuted for attempting to reenterafter a prior removal or attempting to enter without inspection. Amongthe prosecuted, there are subjects with previous aggravated felony convictionsin the United States, including alien smuggling, narcotics violations andweapons law violations.
"Our CBIG partnership provides for a force multiplication to addresssmuggling ventures in the Mona Passage," stated Ramiro Cerrillo, Chief BorderPatrol Agent for Ramey Sector. "Migrants continue toplace themselves at the mercy of smugglers who have complete disregard fortheir safety knowing all the dangers involved."
Early Wednesday, a CBP Air and MarineOperations DHC-8 Maritime Patrol Aircraft (MPA) detected a "yola" coordinatingan intercept by the PRPD FURA Marine Unit west of Rincon. A total of 21undocumented migrants were found (20 Dominican Republic Nationals, 1 Haitian). All migrants were embarked on a USCG Cutter for repatriation procedures.
"A CBP aircraft consistently patrols throughout ourCaribbean area with a firm determination to detect smuggling attempts,"indicated Johnny Morales, Director of Air Operations for the Caribbean Air andMarine Branch. "These four interceptions demonstrate our collectivecapabilities to deter attempts into our borders."
After midnight Jan. 22, a CBP AMO MPA detected a"yola" vessel, which the USCG Cutter Joseph Tezano intercepted north-west ofAguadilla, finding 37 migrants (2 Cubans, 2 Haitians and 33 Dominican Republicnationals).
On Jan. 21, the USCG Cutter Joseph Tezano Sunday,intercepted a 28 foot "yola" vessel northwest of Aguadilla, finding 38undocumented aliens on board (6 adult females & 32 adult males).
On Friday Jan. 20, a CBP Maritime PatrolAircraft detected a "yola" type vessel with an undetermined number of personson board, coordinating with USCG Cutter Joseph Tezano to intercept, west ofAguadilla. A group of 30 undocumented aliens (3 adult females & 27adult males) were found, 2 claiming to be Haitian nationals and 28 claiming tobe Dominican Republic nationals
Biometric reviews revealed that 30 migrants had priorimmigration or criminal records for which they had been removed. BorderPatrol agents took custody for processing. All subjects will becharged for violation of federal immigration laws.
The Coast Guard repatriated a group of 29 migrants Wednesday and 45migrants Monday to La Romana, Dominican Republic.
CBP maintains a strong position regarding theenforcement of our immigration laws along the country's borders and coastalareas.