In detail: Odebrecht's millions in bribes to Dominican officials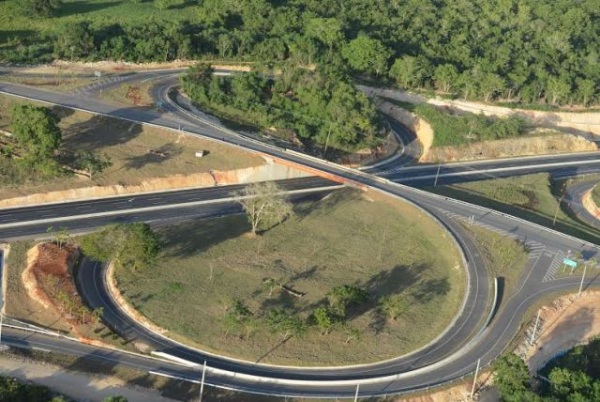 La Romana beltway
Santo Domingo.- Since 2008, the companies owned by Odebrecht case defendant Ángel Rondón had operated on the 8th floor, one story below those of Odebrecht in the Diandy XIX building. The contracts that the company signed with three lobbying businesses to formalize relations with the Dominican Government were generic, but stressed that his compensation for the works for the multinational would be 2% of the final amount of a project's contract.
The figures are in a court document with alleged statements in Brazil by Marco Vasconcelos Cruz, who was Odebrecht's general manager in the Dominican Republic.
According to the indictment of 14 accused, Rondón began to bribe in the country in 2002, with the Northwest Aqueduct, for which Odebrecht could form a conglomerate with Andrade Gutierrez, a construction company which had won the tender. In that case, he says, the ties with the former national water authority (Inapa), director Roberto Rodríguez.
The project's cost, according to statements by Vasconcelos, was US$161.8 million, of which Rondón received 2% (US$3.2 million).
The Pinalito hydroelectric dam is another work for which Rondón is accused of graft from Odebrecht. Their relationship to achieve viability would've been with former State-owned Electric Utility (CDEEE) CEO César Sánchez.
The Office of the Prosecutor has also accused the former executive director of the Hydroelectric Generation Company (Egehid), Máximo De Óleo, and former technical director, Bernardo Castellanos.
Vasconcelos is credited with revealing that from the work that cost US$361.2 million, Rondón received 2% (US$7.2 million)).
Works in which Rondon also obtained 2%: Casabito road (US$74,625,273.37), Duarte Corridor (US$293,091,698.61), Coral Highway (US$471,062, 590.67), La Romana beltway (US$176,650, 569.33, Cibao-Sur road (US$298,755,836.62), Bávaro-Miches-Sabana de la Mar road (US$370,195,377.90), Corridor Duarte II (US$255,000,000), Ecovías Santiago (US$176,650, 569.33) (US $ 295,570, and Boulevard Turístico del Este (US $ 109,943,671.43).
Regarding the Duarte Corridor, Coral Highway, La Romana Road, Cibao-Sur Road, Bávaro-Miches-Sabana de la Mar Road and Ecovías de Santiago, Rondón allegedly had support for the financing, along with the Finance Ministry. At that time, as it was attributed to Vasconcelos, the lobbyist had exchanges with then Presidency Technical secretary, Juan Temístocles Montás, who allegedly signed the loan agreements.
Moreover, the Mirabal province aqueduct is attributed to a relationship between Rondón to senator Tommy Galán, as chair of the Senate Treasury Commission, that could have influenced other lawmakers.
According to Vasconcelos' deposition, the aqueduct's total cost was US$168.2 million, where Rondón received 2% (US$3.4 million).
As to the Punta Catalina power plant, whose tender is the target of an investigation by a commission designated by the Presidency, Vasconcelos had indicated that the relationship between Rondón, then deputy Ruddy González and senator Julio César Valentín, could have influenced to expedite approval of the loan.
According to Vasconcelos, Rondón received 1% (US$20.4 million) from Punta Catalina, whose total cost is US$2.04 billion.
Palomino dam
Ángel Rondón served as a member of the company in the specific design of the Palomino dam, with a 30% stake in the conglomerate, Vasconcelos said. In that case, in addition to the conglomerate, he also allegedly served as consultant and subcontractor.