Forest firefighters plant 3 thousand trees in the Loma Guaigüí area affected by fire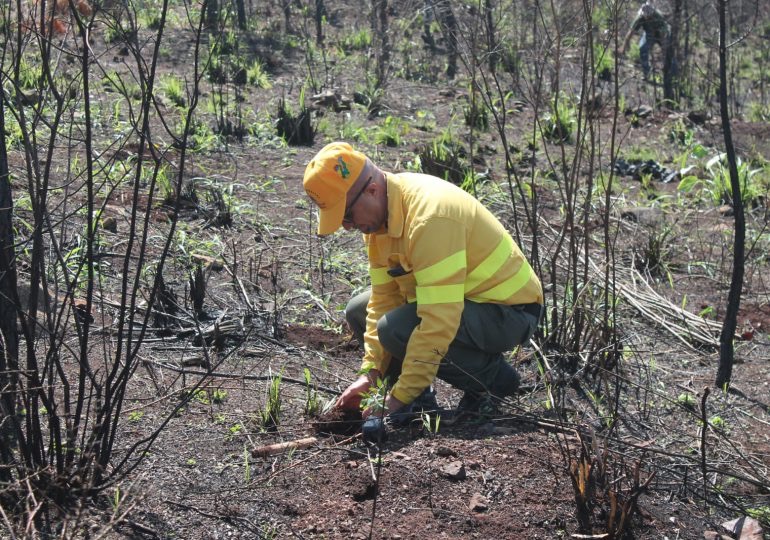 Santo Domingo.- Fire fighters from the National Fire Management Program, under the Ministry of Environment and Natural Resources (MMARN), have planted approximately 3,000 trees in a 60-acre area of Loma de Guaigüí, which was affected by recent fires. This initiative is part of Reforestation Month and reflects the program's commitment to expanding vegetation to protect the country's aquifer sources.
The tree planting effort included 1,300 Juan primers, 700 carob trees, 700 pigeon heart trees, and 300 olive trees. About 35 forest firefighters from the province of La Vega participated in this project, which also involved preparing the planting land by removing debris.
This action aligns with the National Reforestation and Forest Restoration Plan 2023-2024 launched by the government in June. The plan's goal is to restore forest cover across the country, particularly in hydrographic watersheds. It aims to reforest 320,000 acres of land across all 31 provinces of the Dominican Republic, with a total of 20 million trees, including in coastal areas. Priority will be given to five watersheds and sites in four protected areas.
The Ministry of Environment has also recently inaugurated a surveillance center in Loma Guaigüí, with support from civil society and the private sector. The center's purpose is to protect this recreational area from forest fires and unauthorized encroachments.