Hurricane Tammy strengthens in its path towards Caribbean islands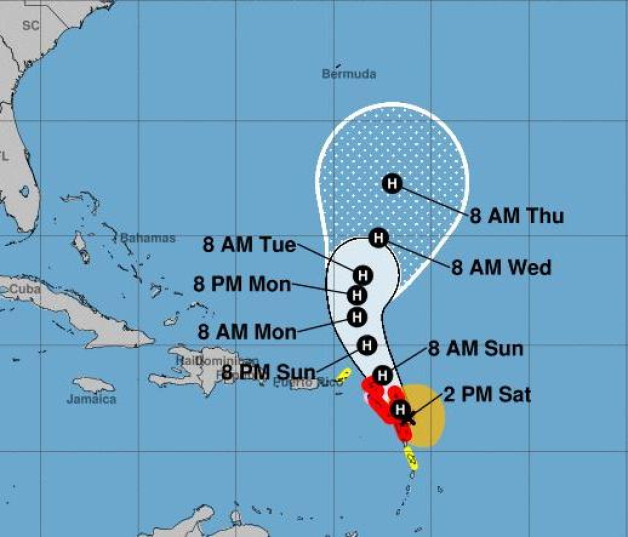 Hurricane TammyNHC Forecast Passage
Miami, United States—Hurricane Tammy strengthened in the last hours and will bring hurricane-force winds and heavy rains to the Leeward Islands tonight and, over the weekend, will lash several Caribbean islands with storms, according to the U.S. National Hurricane Center (NHC).
In addition, the NHC issued a hurricane warning for the next 36 hours for Guadeloupe, Antigua and Barbuda, Montserrat, St. Kitts and Nevis, Anguilla, St. Martin, and St. Barthelemy on Saturday.
This warning is issued when hurricane conditions (sustained winds over 119 kilometers per hour) are expected in those areas.
According to NHC forecasters, Tammy has maximum sustained winds of 140 kilometers per hour with stronger gusts.
Fluctuations in intensity are possible over the next few days. Still, Tammy is expected to remain a Category 1 hurricane (out of a total scale of 5) as it passes near or over the Leeward Islands.
Rainfall accumulations of up to about 10 centimeters are expected in Puerto Rico and the British and U.S. Virgin Islands.
According to the most recent NHC bulletin, the hurricane's center was about 80 kilometers east of Guadeloupe and roughly 170 kilometers southeast of Antigua.
Tammy is moving northwestward at about 13 kilometers per hour and is forecast to continue this motion through tonight and then turn to the north-northwest on Sunday and then track northward on Monday.
On this forecast track, the center of Tammy is forecast to move near or over portions of the Leeward Islands through early Sunday and then move north of the northern Leeward Islands on Sunday afternoon.
Since Friday, several Eastern Caribbean territories, including Guadeloupe, Antigua and Barbuda, Montserrat, St. Kitts and Nevis, Anguilla, St. Martin, and St. Barthelemy, have taken measures such as closing schools and alerting the population to the passage of Hurricane Tammy through the area.
On the other hand, there is a hurricane warning for the next 48 hours in Saba and St. Eustatius.
Other tropical storm warnings were issued for Saba and St. Eustatius for the next 36 hours and Martinique and the British Virgin Islands for the next 48 hours.
Tammy's hurricane-force winds extend 35 kilometers from the center, and tropical-storm-force winds extend up to 205 kilometers outward.
In the current season, which concludes next November 30, 19 tropical storms and seven hurricanes have formed, and one of them, Lee, reached category 5, the highest on the Saffir-Simpson intensity scale.
In an update released last August, the National Oceanic and Atmospheric Administration (NOAA) predicted an "above normal" Atlantic hurricane season, with the formation of between 14 and 21 tropical storms, of which between 6 and 11 would be hurricanes.