Tropical system in the Caribbean Sea could become a tropical cyclone this week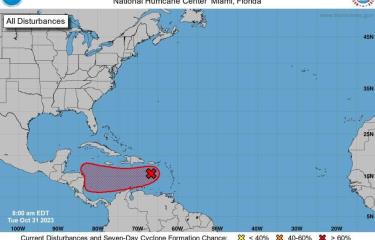 Santo Domingo.- A trough of low pressure situated over the eastern Caribbean Sea is potentially developing into a tropical depression, according to the United States National Hurricane Center's bulletin on Tuesday. This system, referred to as AL 97, currently has a 30% chance of becoming a tropical cyclone within the next 48 hours and a 70% chance of becoming one over the next seven days. The system is producing a large area of showers and thunderstorms.
The National Hurricane Center stated that environmental conditions seem favorable for further development as the system moves westward over the central and southwestern Caribbean Sea. It is likely to develop into a tropical depression later in the week. Regardless of its development, this system has the potential to bring heavy rainfall to parts of Central America by the end of the week.
Tropical cyclones consist of three stages: tropical depression, tropical storm, and hurricane, with varying levels of intensity. A tropical depression has maximum sustained winds of less than 63 kilometers per hour, while a tropical storm has maximum sustained winds greater than 63 kilometers per hour and is given a name. A hurricane, on the other hand, has maximum sustained winds exceeding 118 kilometers per hour and can range from category 1 to 5 in intensity, with category 5 being the most severe.