COE places 13 provinces on alert for downpours that will generate a trough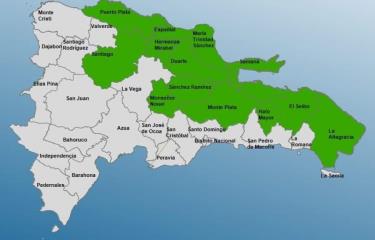 Santo Domingo.- The Emergency Operations Center (COE) has issued a green alert for 13 provinces in the Dominican Republic due to the potential risk of flooding in rivers, streams, and ravines. This alert comes as a result of the forecast of heavy rainfall caused by a trough expected to generate downpours over the next 24 to 48 hours.
The provinces on green alert are María Trinidad Sánchez, Espaillat, Sánchez Ramírez, Hato Mayor, Samaná, Hermanas Mirabal, Monseñor Nouel, Monte Plata, Duarte, Puerto Plata, La Altagracia, Santiago, and El Seibo. The COE advises people in these areas to avoid crossing rivers, streams, and ravines with high water levels and to refrain from using recreational areas near rivers.
The National Meteorological Office (Onamet) has reported that the trough at different levels of the troposphere, combined with high humidity carried by the east/southeast winds, will continue to bring cloudy conditions with moderate to heavy rainfall over the next 24 to 72 hours. The regions most affected by these rains will be the northeastern and southeastern parts of the country, the Caribbean coastal areas, and the Central Mountain Range.
Specifically, the heaviest rainfall is expected in the provinces of San José de Ocoa, La Altagracia, El Seibo, La Romana, Hato Mayor, San Pedro de Macorís, Monte Plata, Greater Santo Domingo, National District, San Cristóbal, Peravia, Azua, Puerto Plata, Sánchez Ramírez, Santiago Rodríguez, Santiago, Monseñor Nouel, and La Vega. Residents in these areas should stay vigilant and take necessary precautions to mitigate the impact of heavy rainfall.