Tokischa retracts controversial participation in Tiny Desk and issues an apology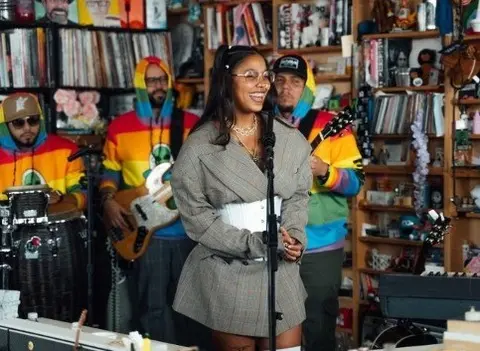 Source: El Nacional
The range of reactions that the urban exponent Tokischa's participation in the Tiny Desk elicited did not surprise her. When the concert's video was released, she immediately acknowledged through social media that she had "looked bad" from the moment it was recorded, opening herself up to a barrage of criticism regarding her preparation and talent. Before her audience, Tokischa defended her actions by saying, "I already knew that Tiny had been bad for me since I recorded it, without rehearsing, without warming up my voice, in the hustle and bustle, sick, in the middle of a tour."
She continued by saying that she had asked for a different time in order to give the public a "quality" performance, but it was not feasible. She pledged, "The musician, if they add him, I owe them a good live session, thank you." Last Wednesday, Tokischa made history by becoming the first musician from the Dominican Republic to perform at a "Tiny Desk" concert series put on by NPR Music's All Songs Considered radio show. She took part by performing some of her most contentious songs, such as "Perra" (which she did in a Bossa Nova style), which at the time drew widespread international criticism and featured Colombian J Balvin.
"Hello, this is the band. I'm Tokischa.  I am a Dominican artist and that's it," was the irreverent invitation to carry on with the single "Hola" with Eladio Carrión. She made a strong point about how the six band members who performed with "La Toki" were dressed in a way that made reference to the LGTB community.
The songs "We are the same", "Delinquent", "Estilazo" and "Traficando" were also included in Tokischa's songbook. She wore casual clothing for her participation, wearing an olive green dress with a wide white belt, two front pigtails, and loose curls for the rest of her hair.