Arajet, the only airline that directly connects Santo Domingo with 5 cities in Colombia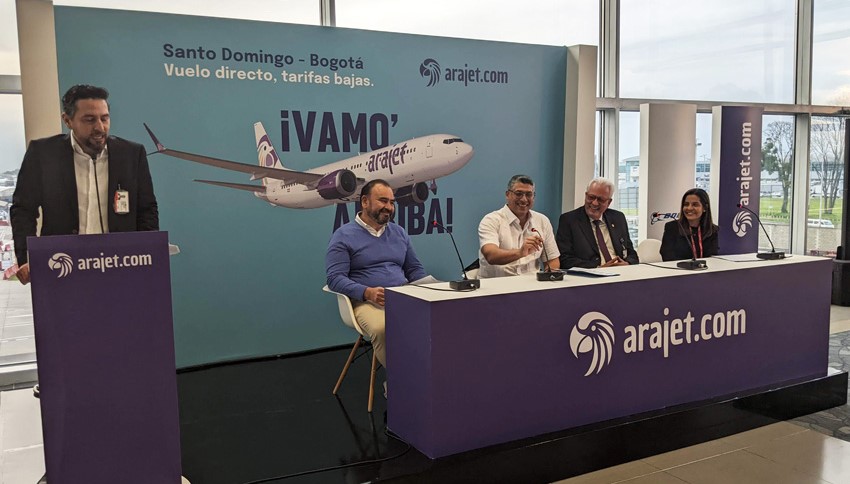 Source: Arecoa
Arajet began its operations in Medellín and Bogotá, becoming the leading airline in connectivity between Santo Domingo and Colombia since it offers 4,800 weekly seats to that country with direct flights to Cali, Barranquilla, and Cartagena. "We are very proud of the growth of our service in Colombia because it is a fundamental destination for Arajet, and less than 3 months after our start of operations we can already say with great pride that we are the first airline between Santo Domingo and Colombia," said Víctor Pacheco. , CEO and founder of Arajet.
He said, "we are confident that our routes will strengthen commercial and tourist ties between the Dominican Republic and Colombia in the coming years, which will benefit thousands of Latin Americans and reinforce our mission to democratize the skies of the region." According to the Colombian Association of Travel and Tourism Agencies (ANATO), the DR is among the 10 destinations that Colombians prefer when vacationing. Additionally, in 2022 Colombian travelers to the Dominican Republic grew by 154%, becoming in recent months the third nationality of tourists who mostly visit the country.
Since its launch in September 2022, more than 60,000 passengers have experienced Arajet's service aboard its fleet of state-of-the-art Boeing 737MAX8 aircraft. According to a statement, the airline currently operates 18 destinations in 11 countries in North, Central, and South America and the Caribbean.