The Minister of Tourism meets with the Secretary of Transportation of the United States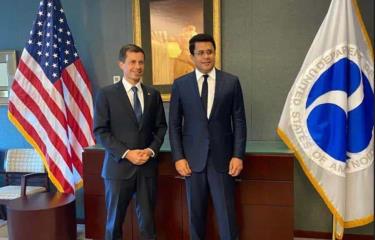 Washington.- The Minister of Tourism, David Collado, met with the United States Secretary of Transportation, Peter Buttigieg, and a delegation from his team in Washington, DC, last Friday. The discussion revolved around enhancing air connectivity between Dominican airlines and the United States to reach an Open Skies agreement.
Secretary Buttigieg expressed his satisfaction with the collaboration between the United States and the Dominican Republic on aviation matters, aiming to achieve mutually beneficial agreements.
Collado emphasized the Tourism Cabinet's priority, led by President Luis Abinader, to strengthen air connectivity for Dominican airlines, ensuring they have equal opportunities compared to American counterparts.
Both officials highlighted the substantial relationship between the two countries, with three million Americans visiting the Dominican Republic annually, and over 2.3 million Dominicans residing in the United States.
During the meeting, the Federal Aviation Administration (FAA) provided reports regarding aviation controls in the Dominican Republic, following their recent evaluation visit. This information was shared with the United States Secretary of Transportation.
As a gesture of goodwill, Collado presented Secretary Buttigieg with a book by Fray Antón de Montesinos, explaining its historical significance as the site where the first cry in favor of Human Rights in the New World was made. In return, the Secretary offered Dominican officials sweets made from the fruit known as "El Rubí de Indiana," reflecting his prior role as the mayor of South Bend, Indiana, from 2012 to 2020.