AFD highlights support to the country in health, education and sargassum control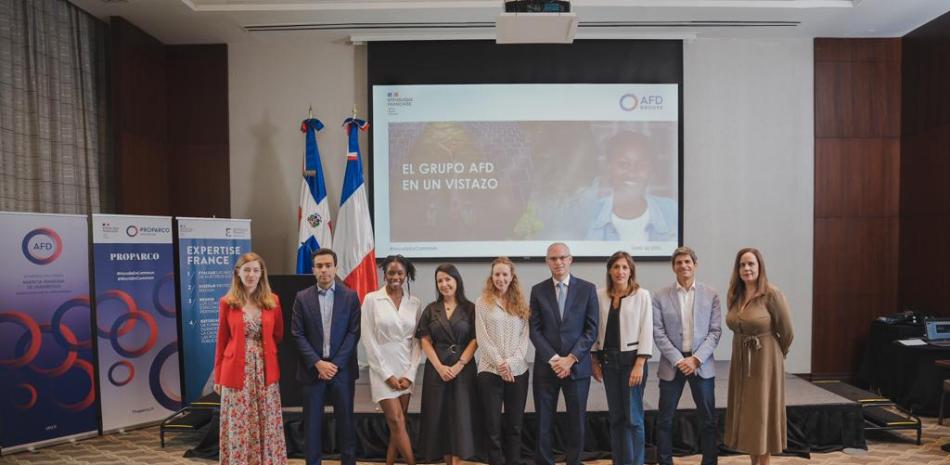 Executives of the French Development Agency.EXTERNAL
In 25 years of operations, the French Development Agency (AFD) in the Dominican Republic and its public and private sector financing subsidiaries, Proparco and Expertise France, a technical cooperation agency, highlighted the commitment to the fulfillment of the Development Development Goals (ODS) and its support to the country, where vital projects such as the Santo Domingo Metro, cable car, water, sargassum control, health, and education, among others, are being implemented.
In a meeting with the media, Virginie Díaz Pedregal, director of the AFD, affirmed that the entity is the first bilateral donor of the Dominican Republic, where 1.2 billion euros have been invested in urban mobility, rural development, health, green energy, education, and other areas.
At the event, held at the Intercontinental Hotel in the capital, speakers included AFD director Virginie Díaz Pedregal; Valéry Vicini, regional director of Proparco, including the DR and Haiti, and Emilie Daniel-García, representative of Expertise France.
In the case of the Santo Domingo Metro, they explained that they support the expansion studies of other lines.
Other projects in which the AFD Group participates include the construction of the PECASA wind farm, the CEDIMAT and HOMS cardiology centers, the Infotep School of Hotel Management, Gastronomy and Pastry in Higuey, the expansion, and development of the PUCMM university, initiatives to finance higher education for low-income youth, reforestation and integrated management of water resources in the Yaque del Norte River basin together with Plan Sierra, and the strengthening of water and sanitation management in Santiago, among others.
The AFD Group is a French public organization implementing French policy on development and international solidarity.
Donations in Haiti
Emilie Daniel, in answer to a question from Listín Diario about the work they develop in Haiti, particularly in health, said that every year they invest as donations in the construction of hospitals and schools in Haiti, among other details.
The leading executives of the French Development Agency presented the projects in the sectors of water, transport, health, education and climate, and environment.