National Library will present a special Christmas concert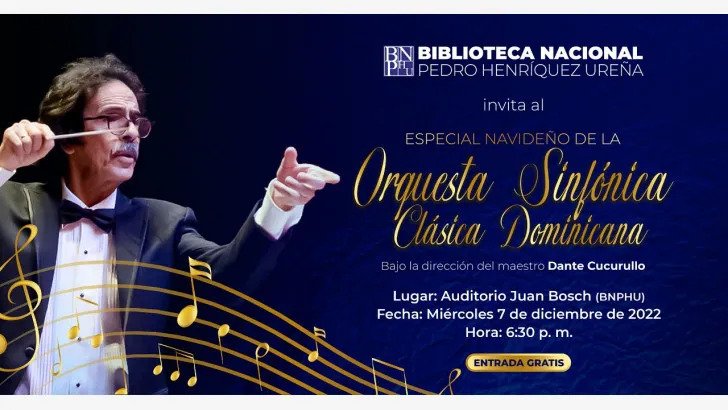 Source: External
The Pedro Henríquez Ureña National Library (BNPHU) will present a special Christmas concert with the Dominican Classical Symphony Orchestra, conducted by maestro Dante Cucurullo. The concert will be on Wednesday, December 7, at 6:30 pm, in the Juan Bosch Auditorium. The authorities of the National Library explained that the Christmas concert will be free and aimed at the whole family.
Dante Cucurullo has been the director of important musical productions for the theater and television. He currently directs the Punta Cana School of Music and Art, sponsored by the Fundación Para la Música y Arte, which has a student body of 40 low-income children. He is the founder and Director of the Contemporary Philharmonic Orchestra, with which he has traveled all over the country and countless public and private schools, spreading culture for free. 
Cucurullo has attended three Latin American Contemporary Music courses in Santo Domingo, Sao Paulo (Brazil), and Montevideo (Uruguay), all of which were sponsored and organized by teachers Corin Aharonián and Conrado Silva. In 1986, he premiered his perplexing work No. 7, which was created from human snoring.