Abel Martínez: "The people are marching for the nightmare of an incapable government to disappear"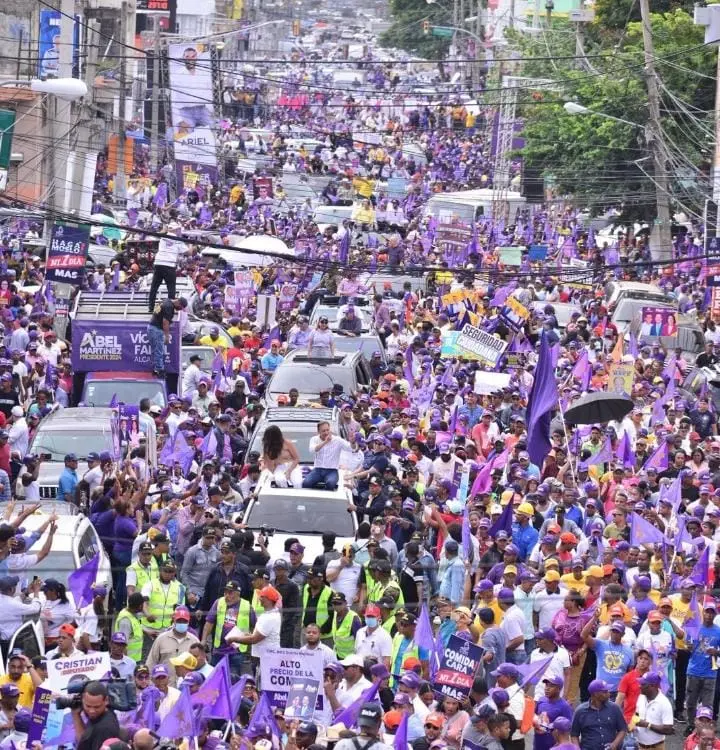 The presidential candidate of the Dominican Liberation Party (PLD), Abel Martinez, expressed yesterday afternoon, during his participation in his organization's "March for Hope," that the entity is supporting the Dominican people in their demonstration for the disappearance of an "incapable government."
"The PLD will be at the side of the people in every step of the hopelessness they are living, marching for the disappearance of the nightmare of blackouts, expensive food, lack of opportunities, the nightmare of a government that does not know how to govern and is incapable of giving them security," he said from the hood of the yipeta in which he rode during the activity.
Martinez, accompanied by his wife Nahiony Reyes, took advantage of his statements to recognize Dominican women and assured them that he would work for them if he won the next elections.
Nahiony Reyes, who spoke at the beginning of the demonstration, added that the "March for Hope" aims to achieve public policies that favor Dominicans and guarantee women's protagonism in critical societal positions.
"Tears welled up in my eyes because I was saying my God how beautiful what is happening in this place. This is part of history and today we are marching for women to have a leading role," said Reyes, also on the white vehicle that transported them along Duarte Avenue in the Dominican capital.
Reyes emphasized that it would be a luxury to have Abel Martinez as the next manager of the Dominican Republic.
"We will work non-stop, without distraction, without rest until the National Palace has Abel Martínez Durán as its president," he said.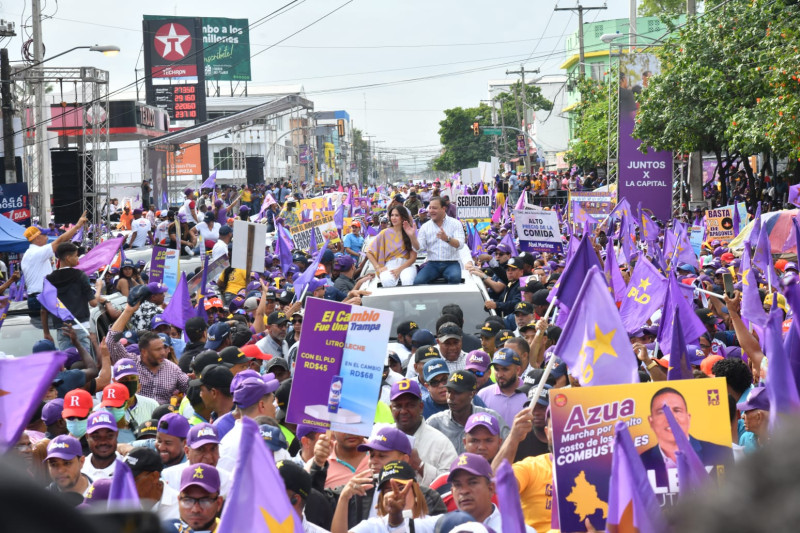 Thousands of citizens backed the demonstration called "March for Hope. "GLAUCO MOQUETE/LD
"MARCH FOR HOPE. "
"E pa fuera que van, no aguantamos más" was the slogan with which thousands of militants of the Dominican Liberation Party awaited the start of their demonstration through the streets of the capital.
The clock showed 4:30 in the afternoon when the presidential candidate, Abel Martinez, approached the main stage on Duarte Avenue, where leaders and sympathizers of the cause were waiting for him to start what would represent a social claim to the Government of the Modern Revolutionary Party (PRM).
"We can't wait any longer; you are our hope Abel," said the supporters of the PRM while Martinez greeted those present.
On the route, until reaching George Washington Avenue, all the corners, sidewalks, businesses, and homes were permeated by demonstrators carrying banners and clothing that, in large yellow letters, said, "hold on, we are almost there."
About four paradas participated in the activity, where the external and youth sectors that support Martinez represented the political structure of the PLD.
In addition, these establishments offered the opportunity to the candidates for elective positions to promote their candidacies with banners and constant mentions.
The event ended with the participation of the urban artist Químico Ultramega, singing his musical piece "tengo una mata en mi casa," to which Abel Martínez and the other members of the top leadership thanked the event by dancing to the song.