More than 3 thousand with suspected dengue fever registered in one month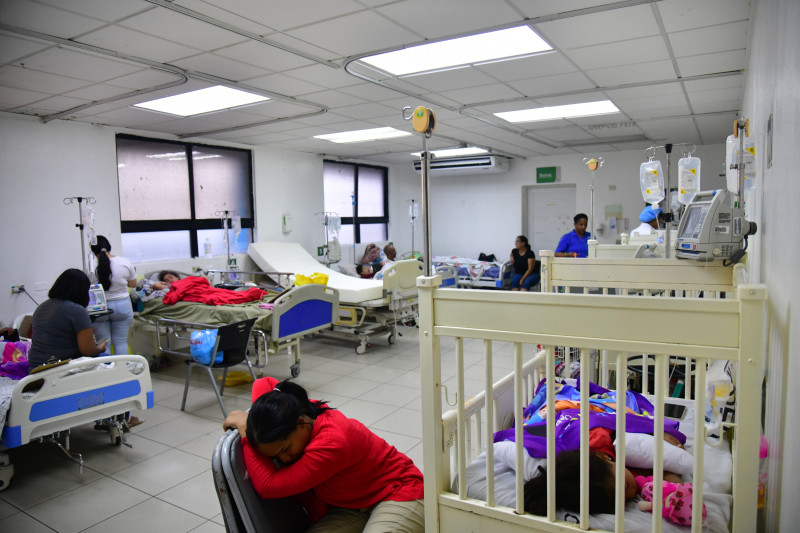 There are 368 patients at the Robert Reid Cabral Hospital, 363 of whom are showing signs of alarm. Jorge Martinez
Santo Domingo, RD—More than 3,000 patients with suspected dengue fever have been hospitalized in the 16 health centers that have the highest demand during the current epidemic affecting the country, of which nine have hospitalized more than a hundred patients, each with warning signs of the disease.
This is established in a report presented by the Ministry of Public Health, where it collects data from epidemiological weeks 38 to 41.
It states that 63% of patients came late to seek medical attention after three to five days of symptom onset and that 24% requested care promptly.
These 16 most in-demand centers hospitalized more than 3,000 patients with dengue symptoms in the last month, not counting the number of cases treated in their emergency areas, which continue to receive a high demand for medical attention from patients with fever and other signs that lead to suspicion of the disease.
Among the health facilities that have admitted the most patients with dengue in the last month are the Hugo Mendoza Pediatric, with 632 hospitalized, of which 612 had warning signs, three of them severe; the Robert Reid Cabral with 368 patients and of these 363 present warning signs and the UCE Medical Center that has hospitalized 185 patients with warning signs.
There is also the Jaime Mota Hospital, with 175 patients hospitalized with warning signs; the Marcelino Vélez Santana, with 160 patients with these conditions; the Arturo Grullón, which reported in the last month about 111 patients with warning signs; and the Unión Médica Clinic with 101 patients in alarm conditions.
Other centers with the highest number of admissions are the Altagracia Clinic, the San Lorenzo de Los Mina Maternal and Child Hospital, the Ramón de Lara Air Force, the Santiago Metropolitan Hospital, the General de la Plaza de la Salud, Padre Fantino, the Boca Chica Municipal Hospital, Juan Pablo Pina and Vinicio Calventi. Pediatric hospitals are overwhelmed with dengue patients, says Infectious Diseases Society
WARNING SIGNS FOR DENGUE FEVER
Among the warning signs for dengue are fever, abdominal pain, vomiting, drowsiness, lack of appetite, and tiredness, which, according to specialists, the patient is beginning to deteriorate and requires immediate medical attention to avoid severity and death.
Meanwhile, following the order of the President of the Republic, extensive days of social mobilization against the mosquito that transmits dengue were carried out throughout the weekend, which involved government institutions and civil society in an attempt to curb the incidence of the epidemic that has caused the death of 11 children and some 13 thousand affected so far this year.