Juan Luis Guerra welcomes Rubén Blades to the country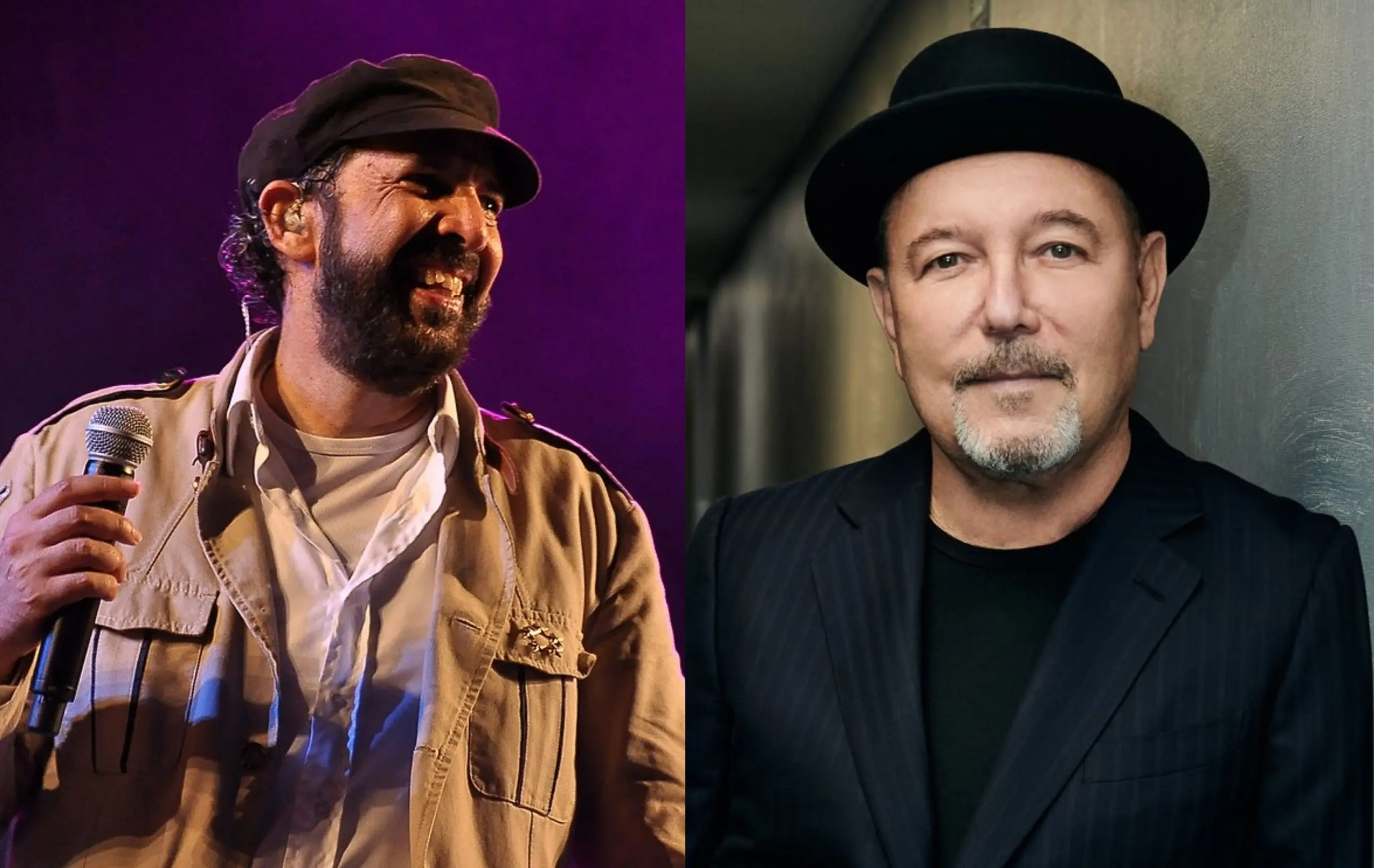 Juan Luis Guerra and Rubén Blades
Singer Juan Luis Guerra welcomed this Friday the "Poet of Salsa," Rubén Blades, who is in the Dominican Republic to present his Salsaswing tour!, along with Roberto Delgado y Orquesta, from Panama, at the Volleyball Pavilion.
"Welcome home always dear Rubén," the interpreter of "Farolito" posted next to a video in a story on his Instagram account.
Blades responded: "Thank you, dear friend @juanluisguerra, for the welcome to your home, our beloved Dominican Republic."
The legend of Latin American music will celebrate with the Dominican public his more than 50 years of musical career with a unique proposal that will include his hits of always and themes of his award-winning production SALSWING! and that gives name to his Salswing Tour! that began in 2021 by the United States, continued in 2022 by Colombia, Puerto Rico, Catalonia and Panama, with absolute success, the show was acclaimed by the public, with complete stages and with the favor of the critics.
After the end of the production, "Fear the Walking Dead," where he played one of the leading roles during the eight interrupted seasons of the series, Rubén Blades resumes touring in 2023, with his Salswing Tour!, taking his musical repertoire to Buenas Aires, Santiago de Chile, Barcelona, Pyrenees, Madrid, Jerez de la Frontera, Marbella, Cartagena, La Coruña, Tenerife, Medellín, Bogotá, Cali, Barranquilla, Los Angeles, Miami, New York, Houston, Orlando and Mexico, Costa Rica and Dominican Republic.
Distinguished as "Person of the Year 2021" and winner of "Best Album of the Year" and "Best Salsa Album" at that year's Latin Grammy Awards, Blades' production was also recognized in 2022 as Best Salsa Album at the US version of the Grammy Awards.
It is worth noting that in 2020, Blades was awarded the Gold Medal of Merit in Fine Arts by the Spanish Ministry of Culture, and in 2021, the Medal of Arts by Harvard University (the first Latin artist to receive it).
Rubén Blades is a multifaceted artist who has transcended beyond music as a film and series actor, writer, political activist, and public servant in the position of Minister of Tourism of Panama (between 2004 and 2009). His writings and opinion articles, "Apuntes desde la Esquina" and "Diario de la Peste," published on his web page, are and have been commented on and reproduced by different media and international journalistic agencies.
With 22 Grammy Awards (11 Latin Grammy and 11 English Grammy) and more than 50 albums published that have left an indelible mark in the history of music, "The poet of Salsa" will be accompanied by Roberto Delgado Big Band of 20 incredible Panamanian musicians, who since 2010, have been attending Ruben Blades in the most prestigious festivals and venues around the world.
Ruben Blades
About SD Concerts
SD Concerts is a pioneering entertainment company based in the Dominican Republic that, for over 20 years, has established itself as a leader in the Caribbean and Central America for the realization of large-scale artistic events with the highest standards of logistics, security, and staging.
SD Concerts has produced the most important concerts in the region, ranging from Coldplay to Cirque du Soleil to artists such as Juan Luis Guerra, Romeo Santos, and Rod Stewart.
The company is characterized by its constant innovation in the market. It is in countries with large fans, such as Costa Rica, Venezuela, Chile, Puerto Rico, Guatemala, Colombia, Panama, and Peru.
For more information about SDSD Concerts, visit sdconcerts.com and social networks: @sdconcertTWTW: @sdconcertFBFBSDSD Concerts.