ABC News links Trump to row pitting Dominican tourism moguls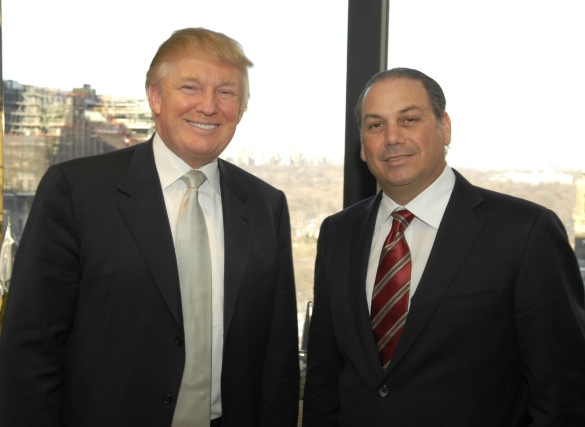 D. Trump, A. Hazoury, File
Santo Domingo.- ABC News reports Mon. that when the Trump Organization left the Dominican Republic after the economy crashed 10 years ago, "their plans for dozens of luxury estates in a Trump-branded development appeared to leave with them."
It notes that buyers were left empty handed despite having  staked millions on lots for their resort residences in front of the turquoise waters of the Caribbean. "The Trump team sued the developers, alleging fraud. And the billboards bearing the Trump name came down."
It says that now, there are signs the Trump brand may be returning, prompting critics to ring the alarm bell over the potential conflicts of interest by the US president in office.
"The first sign the Trumps might try again came 16 days after Donald Trump took the oath of office. His son Eric made a visit to the island on Feb. 5. 2017 to meet with the same developers he had once accused of "textbook fraud." With the legal case settled, they had appeared to make peace."
Back on the island
"Cap Cana developers Ricardo and Abraham Hazoury welcomed Eric Trump to the Dominican Republic in February 2017 and posted a photo on their website to mark the occasion," ABC News adds.
The news comes amid a spat pitting tourism mogul Frank Rainieri -cofounder and owner of the Puntacana hotel group-  and the Hazourys over proposed high rises at Cap Cana and nearby Macao Beach (east).
Rainieri claims that the proposed buildings, -whose construction has already been authorized by the government- would violate the "proven model of low-level hotels," which are limited to three floors and don't rise above the coconut palms.
In response, the Hazourys in a statement affirmed that the East Region's developers "are fed up with Rainieri.
Interviewed Mon. on Hoy Mismo Color Visión, Abraham Hazoury accused Rainieri of being the "queen bee" of tourism "who lives under a continuing conspiracy."