Child affected by explosion in Punta Cana apartment remains in critical condition with his parents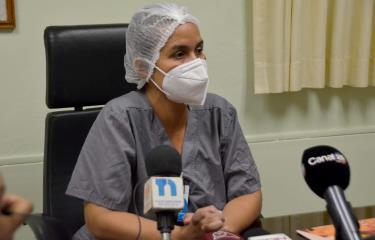 Punta Cana.- In a devastating incident in Punta Cana, La Altagracia province, an explosion occurred in an apartment recently acquired by a couple residing in Orlando, Florida, United States. The explosion resulted in severe injuries to the family, including a one-year-old and two-month-old boy.
According to the medical report issued by Dr. Renata Quintana, director of the Burn Unit at the Dr. Arturo Grullón regional university pediatric hospital in Santiago, where the infant was transferred from the eastern part of the country, the child is in critical condition. The one-year-old is currently on mechanical ventilation due to the substantial impact of inhaled smoke on his lungs.
The boy's injuries include second-degree burns covering 45 percent of his body surface. The extent of the burns adds to the complexity of his condition, making his health precarious.
Meanwhile, the parents are also hospitalized and receiving care in the Pearl F. Ort Burn Unit of the Ney Arias Lora Hospital, located in Santo Domingo Norte. The father's condition is reported as critical, while information about the mother's health status is yet to be disclosed.
As this tragic incident continues to unfold, our thoughts and prayers are with the affected family. The medical teams are working diligently to provide the best possible care and support during this challenging time.