US Embassy, Dominico-Americano cut ribbon on first American English Lounge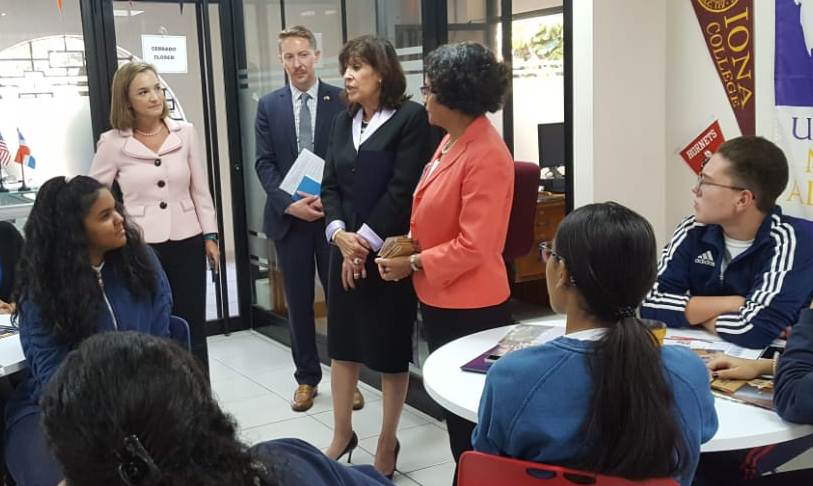 R. Bernstein, 3rd from left.
Press Release
Space aims to promotes free tools for teaching English
Santo Domingo – The Embassy of the United States in Santo Domingo, in collaboration with the Dominican-American Cultural Institute (ICDA), inaugurated the first American English Lounge, a resource center for the promotion of free English teaching tools developed by the Department of State of the United States.
The event was headed by the Ambassador of the United States in Santo Domingo, Robin Bernstein, and the President of the Board of Directors of the ICDA, Darys Estrella.
During her opening speech, Ambassador Bernstein said that "this American English Lounge will provide access to hundreds of educational resources available through the American English website. This space will offer the opportunity for English teachers to plan classes, find tools for courses, and share best practices through open dialogue.
The new space, located on the third floor of building E of the main headquarters of the ICDA on Lincoln Av. in Santo Domingo, will be open to the entire community of teachers and students of the country during the 8:00 a.m. at 10:00 p.m. Monday through Friday and Saturdays from 8:00 a.m. at 6:00 p.m.
American English Lounge users will have access to online resources through computers installed in the area with which they can access courses aimed at both teachers and students. These resources, available through the website https://americanenglish.state.gov, aim to promote the teaching and learning of the English language and American culture.