Dominican Republic's biggest cement maker unveils US$8.5M line to boost output(Update)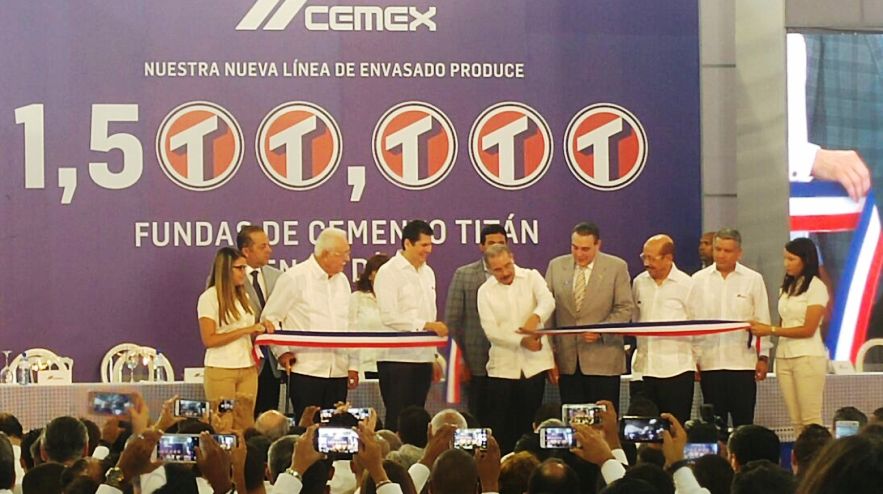 President Danilo Medina cuts the ribbon. Cemex Dominicana president Carlos E. Gonzáles to his right.
Santo Domingo.- "In the next two years we will be expanding our solar power generation plant, modifying and expanding our crude mill, thus making modifications to include additions with a total investment of $1.65 billion pesos," said Carlos E. Gonzalez, who added that the plant complex accounts for 650 direct jobs.
File.-Dominican Republic's biggest cement maker -Cemex Dominicana- on Wednesday cut the ribbon on a cement-bagging facility at its plant in San Pedro (east) that will boost production by an additional 800,000 tons of Titan cement, equal to 18.0 million bags per month.
"With the installation of a new packaging and palletizing line at our cement production plant in san Pedro de Macoris we expand our production capacity to meet the growing demand in Dominican Republic's development. We support the work of our customers and contribute to the country's sustainable development," Cemex said in an ad on local newspapers.
In graphics, Cemex shows an annual cement output of 2.2 million tons and 52,884 bags of cement.
Cemex said the new leading edge technology facility, "the region's most efficient," was built at a cost of RRD$400. 0 million (US$8.5 million), and can bag 800,000 additional tons of Titan cement annually, or 18.0 million bags.
"As the market's leading company we contribute to a sustainable future by promoting an efficient and profitable industry, responsible for creating jobs and encouraging growth."