Local company converts conventional autos to electric: report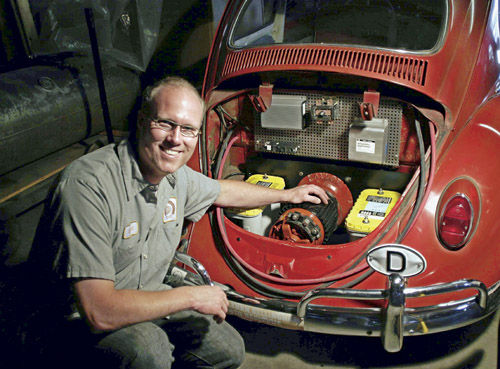 Electric conversion: 1964 Volkswagen Beetle. Photo http://www.electricvehicleswa.com/news.php
Santo Domingo.- Just like in 2007 when thousands of Dominicans opted to install natural or propane gas in their gasoline-powered vehicles to lower fuel costs, they'll also be able to convert them to electric power from now on, without having to buy one.
The company GD Supplies and Services develops the Go-Electric project, a system that converts conventional vehicles to electric power which it affirms is maintenance-free and less polluting, while yielding equal performance,.
The 100% electric prototype unveiled Wed. is a Daihatsu van whoxe conventional engine was replaced with an electric motor.
"The vehicle works with a 3-phase electric and asynchronous 72-volt motor, powered by a bank of 12 batteries, 205 amperes and approximately 10 kilowatts per hour," said GD CEO Manuel González Abud, quoted by diariolibre.com.
"The battery bank is deep cycle, rechargeable with DC current passing through a controller inverter that converts DC current to AC with which the 3-phase motor operates. This controller handles 400 amps and takes care of the accelerations and allows the engine to deliver all the power required for proper mobility on the streets. "