Agro chief calls Haiti ban on Dominican products 'something momentary'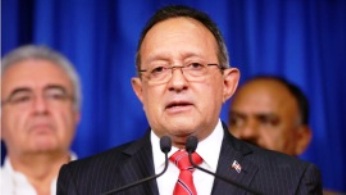 A. Estevez. File
Santo Domingo.- Agriculture minister Ángel Estévez on Tues. said Haiti's ban on Dominican products has been lifted and called it "something momentary" that occurs with some products that were bought from the Dominican side of the border and rejected by Haitian authorities.
"This was overcome, and this is already a tradition that this is done every year, but the Dominican Republic and Haiti are still negotiating…," the official said. "Between the Minister of Agriculture of Haiti and us there is a very fluid communication."
The official noted however that there's no clear explanation for the ban, and added that of the products barred only two from the agro sector: rice and some vegetables, "but the rest were products such as spaghetti, among others."
Joint effort for quality products
Interviewed in the National Palace, Estévez said together with the Haitian official, met with the UN Food and Agriculture Organization (FAO) and other international organizations to seek a health system, so the fruits that leave both the Dominican Republic and Haiti, have quality and are free of the diseases that affect the globe.