Barrick mined '120 times' more gold than the Spaniards in a century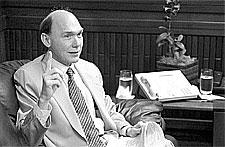 Santo Domingo.- Historian Frank Moya Pons on Fri. affirmed that Barrick Pueblo Viejo has extracted some 120 tons of gold in the last four years, in the deposit that the Spaniards discovered in 1505.
The author also said that in one year Barrick has extracted up to 120 times more than all the gold that the Spaniards mined in the entire 16th century.
"What I really said, because I read it, was that that company 'produces five times more of that amount in a single year, that is, one million troy ounces, equal to 33.71 tons," Moya said.
He said that in the last four years, Barrick has extracted some 120 tons of gold from a deposit that was discovered by the Spaniards in 1505'.
He added that the figures are in his book "The gold in Dominican history," presented in Madrid's Book Fair.