Haiti imported 97.6 % of goods from the Dominican Republic in more than seven years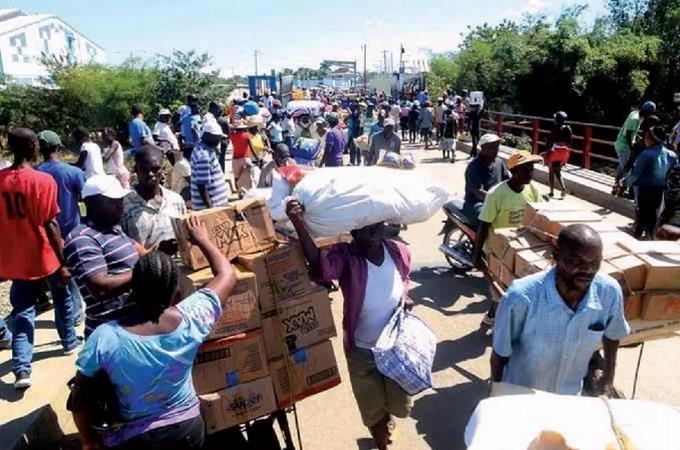 Santo Domingo, DR
Exports to neighboring Haiti continue to occupy a second place as a destination for Dominican sales, whose exchange remains very much in favor of Dominicans because that country imports 97.64% of the goods it needs and barely trades 2.4% as exported goods to this part.
According to official data, between 2015 and January and July 2022, Haiti bought Dominican goods for more than US$6,899.2 million, equivalent to 97.6% of the commercial exchange with the Dominican Republic.
The products that Haiti has formally purchased are mainly cotton fabrics, portland cement, wheat flour, soybean oil, plates, sheets, sheets and strips of non-cellular polymers of ethylene, sweet cookies, paper or cardboard boxes or corrugated cardboard, plastic tableware, and other items for table or kitchen use.
Other products occupy more than half of the purchases (54.1%), so it is inferred that they correspond to basic foodstuffs.
A ProDominicana report indicates that in the first seven months of this year, Haiti purchased goods from the Dominican Republic valued at more than US$678.2 million, while the imported value was US$674.2 million.
An analytical report by the consulting firm DASA, prepared for the Dominican Association of Exporters (Adoexpo), indicates that in the first half of this year, 2022, exports to Haiti grew 30.6%, equivalent to a value of US$680 million.
Researchers
According to to report 36 of the Haiti Studies Unit of the Center for Studies, Economic and Social of the PUCMM, "from 2019 to January-June of the current 2022, the trade accounts of goods of the Dominican Republic with the Republic of Haiti accumulated a surplus of US$3,101 million."
The country has no public data on significant investments in the Haitian capital. However, in recent years there has been an exodus to the DR due to the neighboring territory's social, economic, and political instability.