The three main challenges of the Dominican private sector, according to the World Bank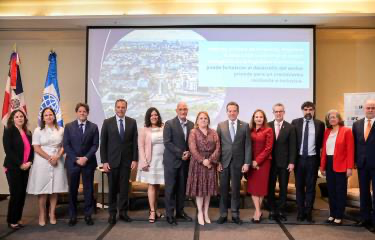 Santo Domingo.- Improving the investment climate, addressing educational gaps, and enhancing electrical services are key factors to boost productivity and competitiveness in the Dominican private sector. These insights come from the Private Sector Diagnostic (CPSD) report titled "Creating markets in the Dominican Republic," authored by the World Bank.
During the report's launch, Jade Salhab, a private sector specialist, highlighted that 39% of Dominican companies face challenges in the business environment, primarily due to cumbersome bureaucracy, lack of institutional cooperation, and fiscal fragmentation. Streamlining processes could reduce a company's launch time by up to 27%.
Salhab emphasized the importance of better institutional coordination to attract investments, particularly in nearshoring. While the country possesses various capabilities and competencies across institutions, aligning them more effectively could yield greater results.
Addressing the growing demand for highly qualified personnel is crucial. Despite the Dominican Republic's sophistication, the educational system falls short, particularly in high-level industries. Education emerges as a significant concern for the business sector.
Magdalena Lizardo, managing partner of Pareto, stated that education is a primary source of productivity issues. Although 75% of the working population over 15 has secondary education, the completion rate is lower, around 49%. Education is vital for industries like medtech, which require increasingly sophisticated processes.
José Manuel Torres, executive vice president of the Dominican Association of Free Zones (Adozona), emphasized the challenge of finding qualified personnel, hindering the growth of certain industries.
Marco Henríquez, CEO of Henríquez y Asociados, stressed the need for ongoing investments in training to enhance the export sector's logistics chain, a critical factor in competitiveness.
Addressing the high electricity costs and service instability in the Dominican Republic is also crucial. Outages and network issues result in a 5% loss in sales. The World Bank and the International Finance Corporation (IFC) have made a substantial financial portfolio available to improve this sector and promote competitive tenders for renewable energy contracts.
To overcome these challenges, the report recommends several actions:
1. Automate business establishment processes and digitize license and permit acquisition.
2. Enhance specialized training programs, English language education, and attract foreign investment into continuing education.
3. Internationalize and streamline tenders in the electricity sector to reduce rates and promote renewable energy.