President of Samsung Latin America pays a courtesy visit to Chancellor Roberto Álvarez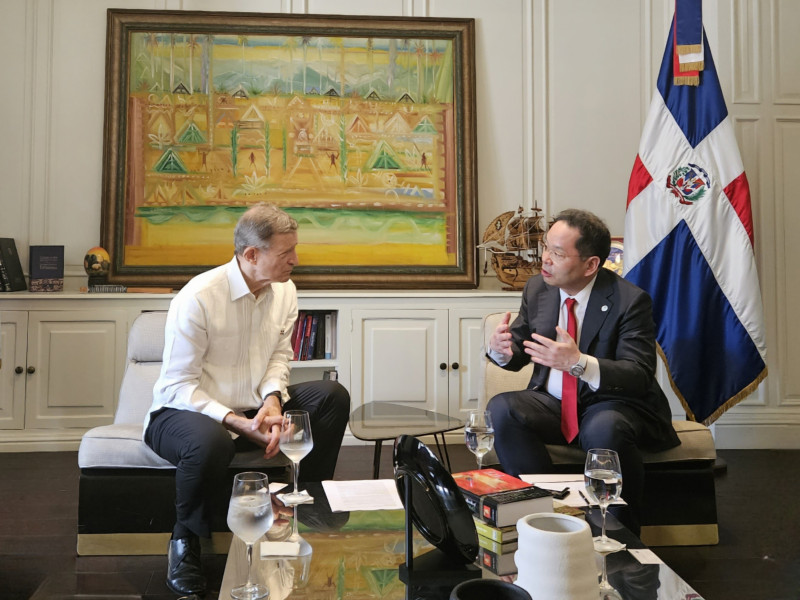 Santo Domingo.- The president of Samsung Electronics Latin America, along with other company representatives, paid a courtesy visit to the Minister of Foreign Affairs, Roberto Álvarez. During their visit to Santo Domingo, they requested the support of the Dominican government for Busan's candidacy to host the 2030 World Expo, a prestigious event held every five years.
Busan, a city with a rich history and advanced technology, is competing with Rome (Italy) and Riyadh (Saudi Arabia) to host the 2030 World Expo. The decision on the venue will be made on November 28. The World Expo provides cities with a unique opportunity to showcase their capacity for innovation and their vision to address global challenges.
During the visit, Samsung representatives and Dominican authorities discussed the importance of strengthening ties and the successful cooperation and investment experiences between both parties. Samsung's commitment to promoting education and closing the digital divide in the Dominican Republic was highlighted.
Samsung has implemented the Samsung Innovation Campus program in collaboration with the Export and Investment Center of the Dominican Republic (ProDominicana) and the Technological Institute of the Americas (ITLA). This program aims to provide equitable access to technology, promote digital skills training, and contribute to the sustainable development of the country. It has benefited 100 young Dominicans this year.
The Solve For Tomorrow program, which encourages young Dominicans to identify and address real problems in their communities using STEM (science, technology, engineering, and mathematics) principles, was also discussed. This program recently celebrated its 10th anniversary in Latin America and has benefited more than 300,000 students in the region.
Samsung is committed to addressing global challenges and reducing its carbon footprint. Busan's bid for the World Expo aligns with Samsung's philosophy of creating opportunities for dialogue and joint action to tackle pressing global issues, including climate change, poverty, and inequality. Samsung sees the vision of Busan as conducive to finding solutions to the most pressing challenges of our time.