Falcondo: Our land was the most hit by Loma Miranda forest fire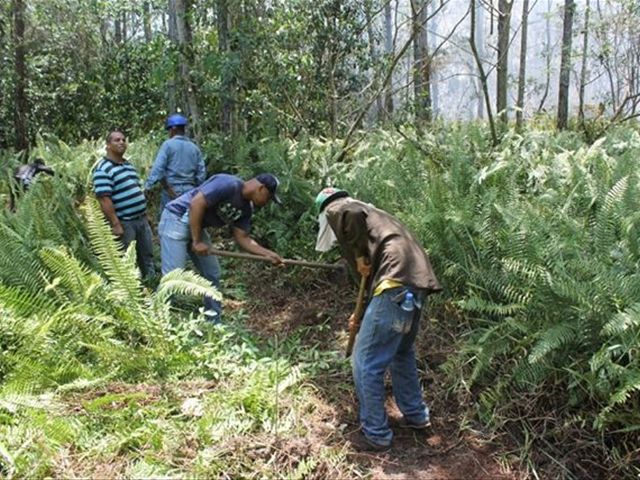 Bonao, Dominican Republic.- The mining company Falconbridge Dominicana (FALCONDO) reported that more than 621 acres, of the approximately 700 acres affected by the fire in Loma Miranda, belonged to the company. This was quantified by the Ministry of Environment.
David Soares, President and General Manager of FALCONDO, was thankful for efforts of the members of the Environmental provincial offices of Monseñor Nouel and La Vega, the Deputy Minister of the Department of Forest Resources and all the locals, along with company employees, all led by the Ministry of Environment for the quick action to mitigate the forest fires that affected nearly 700 acres in Loma Miranda.
"Efforts to mitigate the fires in Loma Miranda deserve FALCONDO'S recognition, as hundreds of people risked their lives in order to stop the environmental damage that occurred in the area," emphasized David Soares.
For David Soares, "all the efforts made by the authorities of the Public Ministry and the National Army to find those responsible for the fire will be highly valued by FALCONDO, its employees and all families living around Loma Miranda".
Soares said the company was alerted of the situation early this past Thursday, by the personnel working in a plant nursery that the company has in Loma Miranda, where the company has replanted around the Rio Jagüey basin and where it has planted more than 170,000 trees. Provincial environmental authorities were informed of the situation and the company offered to help extinguish the fires.
Meanwhile, Falcondo's Environmental Leader, Fernando Cabrera, said that since Thursday, the company has sent more than 30 men, one road grader, a bulldozer and other heavy equipment, at the request of the Ministry of Environment, to open trails that would prevent the fire from spreading. Also, hundreds of food rations and bottled water were distributed to all staff stationed in the area.
"Fortunately the fire did not affect significantly the upper basin of the Jagüey river, area were FALCONDO has planted hundreds of trees and that is part of the mining project area," explained Cabrera.
Unfortunately, firefighter helicopters belonging to the Dominican Air Force had to stock up on water in the dam of Rincon, which is relatively far from the affected are in Loma Miranda, as the area does not have aquifers that would help stop the fire faster.
Finally, Fernando Cabrera said the most affected areas in Loma Miranda belong to the lower middle part of the promontory and is thankful for the presence of the Ministry of Environment and the National Army personnel to prevent new fires.