Deputy demands enforcement as crimes with assault rifles rise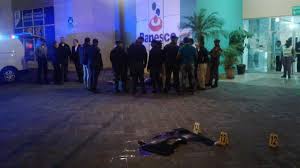 One guard killed in Bella Vista Mall by robber using an assault rifle
Santo Domingo.- Opposition deputy Víctor Bisonó on Wednesday delivered a letter to Supreme Court chief justice Mariano Germán, demanding enforcement of Law 631-16 on firearms, because "it 's now the time for the Judiciary to apply it," and to disarm the population, as felonies with assault rifles mount.
"Nothing prevents this drastic Law from being enforced and to have consequences in the traffic of firearms through Customs and criminal actions," said the National District deputy of the opposition PRSC party.
"It has to be a consequence of penalties of 10 to 20 years for the carrying and trafficking of weapons of war. It is the judiciary that has to apply the law to do justice," Bisoño said in a press conference in the Supreme Court building.
He said the fact that assault weapons are used in holdups in Santiago shopping malls should be cause for concern, adding that gun violence killed more than 120 people this year.