World must help Haiti save its natural resources: Dominican official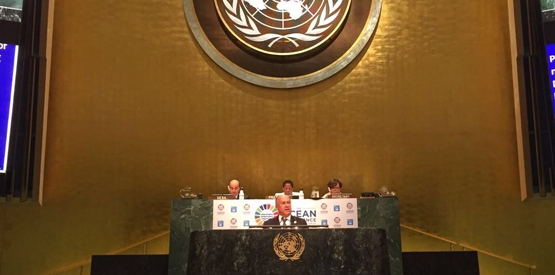 Francisco Dominguez at the UN
New York.- Environment minister Francisco Dominguez on Tuesday urged the international community to increase its support for Haiti, as a way to improve its natural resources.
He said Haiti barely has 2% of its forest cover, and just like its surface, the coral reefs have also been severely ravaged to a point of complete decline.
"For us it is essential to help Haiti, we are a single island, to help Haiti in environmental terms, it is also to help the Dominican Republic," the official said in his speech at the UN Conference on Oceans in New York.
Dominguez said as an island "we have in common key challenges and threats from the negative effects of climate change and excessive ocean pollution."
"Our country occupies eighth place in vulnerability and risk before these threats. The irresponsible dumping of plastic waste, and unreported and uncontrolled illegal fishing, obliges us to assume commitments to preserve the oceans and the fulfillment of the human goals of food and sustainable social development, in full adherence to the Sustainable Development Objective 14, on the conservation of oceans, seas and marine resources," he said.