Opposition leader stresses "openness and non-discrimination"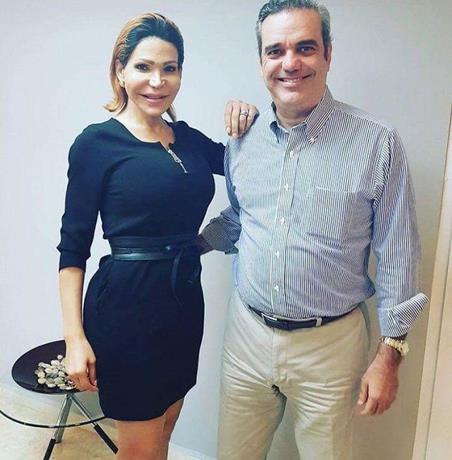 TV presenter Mia Cepeda with Luis Abinader of the PRM (courtesy listin.com.do)
Santo Domingo.- Former presidential candidate for the PRM party, Luis Abinader, declared Sunday that due to his "deeply held Christian beliefs" he does not engage in discriminatory behavior or reject any human being on the grounds of their religious, racial or sexual orientation.
A communiqué issued by Abinader states that he follows the guidance of Pope Francis, as outlined in his book "The Name of God is Mercy," on the care that must be taken when judging the sexual orientation of others: "because before all else comes the individual person, in his wholeness and dignity."
Abinader states that he is open to everyone who aspires to a change in the current model of government and society in the Dominican Republic.
In his statement, the politician explains that these convictions were what had led him to accept the support offered to his presidential campaign by transsexual television presenter Mia Cepeda.
Abinader adds that he will continue to work tirelessly for the establishment of a government that will guarantee the rule of law, independence from the branches of government, and that will ensure a climate of equality, dignity and respect for everyone.
He says that he is convinced that the next electoral round would decide in favor of the changes and reforms that he is proposing, which will be decided by the free will of the electorate.
Abinader does not make any reference to recent statements by the bishop of the Diocese of Baní, Víctor Masalles, who criticized the former presidential candidate for the PRM for appearing in a photo with transsexual presenter Mia Cepeda.
Masalles raised the issue again on Sunday, saying that when he said that the opposition leader was "desperate," what he meant in this case was that he was seeking support wherever he could find it.