Dominican Republic tenders energy as US$2.1B power plant scandal lingers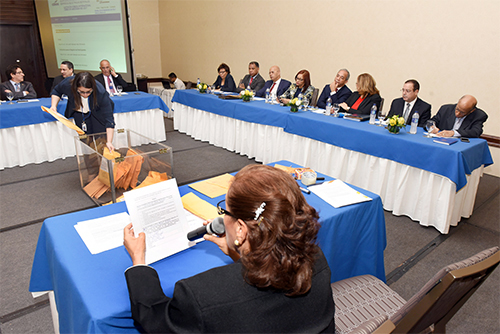 The reception at the CDEEE
Santo Domingo.- The committee which will expedite a power purchase agreement (PPA) on Fri. received the administrative and technical tender offers from a dozen power companies, which also submitted their economic proposals in sealed envelopes.
The announcement comes as questions still linger on the scandal over alleged cost overruns -from around US$900.0 million to US$2.1 billion- in the construction of the Punta Catalina coal-fired power plant by the Brazilian engineering company Odebrecht, which admitted paying US$94.0 million in bribes to Dominican govt. officials to secure public works contracts.
The expedited international call for tenders by the State-owned Electric Utility (CDEEE) so that the energy distributors (EDEs) contract 428.6 megawatts, that will complete the 900 Mw initially tendered after the contracts in the 'Madrid Agreement' expired.
The 10 companies that submitted technical, administrative and economic offers in the presence of notary public Leyda A. de los Santos L.: Pimentel, Monte Rio, CEPP, EGE Haina, Palamara-La Vega, DPP, Itabo, SA, Los Origenes, AES Andrés and Transcontinental Capital Corporation.
Tender offers
Rubén Jiménez Bichara, CEO of the CDEEE, headed the presentation of offers. He said the Bidding Committee decided to submit, together with the economic offers of the power companies, a sealed envelope with the EDEs' energy purchase limit.
He said both the power companies' economic tender offers and the top price will be unsealed on October 19, and will then announce the winners.
Process
The EDEs conduct the new process for tender offers, headed and coordinated by the CDEEE, supervised by the Electricity Superintendence of (SIE), as Electricity Law 125-01stipulates.