Cosmetic surgeries kill 6 women just this year: Listin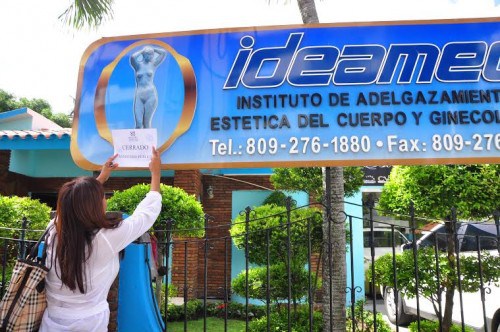 Clinic, shuttered by authorities after cosmetic surgery death. File
Santo Domingo.- In the 11 months of 2017, at least six women between 25 and 36, died from cosmetic surgeries in the country.
Outlet Listin reports that most victims die on the operating table or hours after the procedure. "According to media records, the most common cases occur due to liposuction, breast and buttocks augmentation."
Half of the victims came from other countries to have an operation. The latest tragedy in the Dominican Republic occurred Saturday, in Monseñor Noel province. Claribel Abreu, 34, died days after a liposuction. She left two daughters orphan.
Emmy Duvergé, 36, died after a liposuction by doctor Enmanuel Mallol. On October 17; Mariela Martínez, 31, died in August after a lipo-sculpture allegedly in the clinic Dr. Edgar Contreras.
Keldys Somelis Díaz came to the country from the US on July 28 for cosmetic surgery, but died in La Vega when anesthesia was administered.
Jamaican Tracy Dixon, 37 died in Santiago in March during liposuction surgery at Bella Forma clinic, whereas US citizen Janelle Edwards, 25, died in the Bronx just weeks after breast and buttocks enlargement, and a belly tuck in Santo Domingo.